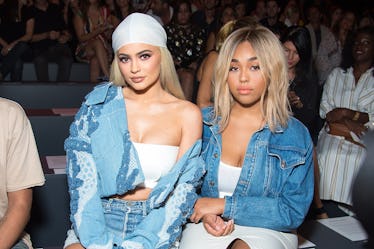 Kylie Jenner Let Jordyn Woods Cut Her Hair With Kitchen Scissors & Honestly, That's Brave
Kylie Jenner changes her hair more than I change my clothes, but this time, she's not wearing new wig. Instead, she let her best friend, Jordyn Woods, cut her hair with a pair of kitchen scissors and I'm honestly impressed by her bravery. Kylie Jenner's haircut from Jordyn Woods is a short bob, just like Kendall and Kourtney have and like Kim and Khloé have had in the past, so she's basically just trying to keep up with the other Kardashians with this look.
Jenner documented the haircut on her Snapchat, saying, "Jordyn's cutting my hair with some kitchen scissors," and my blood pressure immediately spiked. By the time she posted this video, her hair was already super short, showing just how much work Woods had already done on the makeup mogul's locks. She then says, "Andrew, if you're watching this, what do you have to say, Jordyn?" I have no idea who Andrew is, but Woods had a hilarious comment for him. She said, "Watch out, I'm coming for you!" and then waved the scissors around a little bit. Apparently no one told her it's not safe to run with scissors! While Jenner changes her hair color and style seemingly all the damn time with the help of wigs, it looks like her natural hair is now colored dark brown.
What do you think of Jenner's new 'do? I think she's rocking it!
This is yet another video of Kylie Jenner where she won't show the lower half of her body. Ever since the rumors of her reported pregnancy started back in September, Jenner has been careful about what parts of her body she shows on Snapchat and Instagram, which is making people believe she's actually pregnant. Still, she hasn't confirmed anything, so we won't know for sure until she does.
Kris Jenner might've accidentally confirmed Kylie Jenner and Khloé Kardashian's reported pregnancies on Instagram, however, and fans are freaking out.
On Nov. 16, Kris Jenner posted an Instagram of nine sets of PJs Burt's Bees had sent her "for every one" of her grandchildren. Her caption said,
Thank you so much #burtsbeesbaby@burtsbeesbaby#bbbfamjams for the most amazing collection of family jammies ever and i am obsessed with the plaid !!!!! Can't wait to cuddle up with the kids #holidayseasonthank you for a collection for every one of my grandchildren
But here's the thing: Kris Jenner currently has six grandchildren (Mason, Penelope, Reign, North, Saint, and Dream) and only one confirmed baby on the way (Kim Kardashian and Kanye West's baby girl will arrive "before Christmas" via surrogate). So that's only seven babies, and yet Jenner's photo clearly shows nine pairs of PJs. Based on this clue, it seems as if Kris Jenner is expecting to be a grandmother to three more babies in the coming months! This might mean Kylie and Khloé are actually pregnant, guys!
Kim Kardashian recently had a baby shower to commemorate the upcoming arrival of her and Kanye West's third child, and according to sources close to the family, Kylie Jenner had her own baby shower the next day. Jenner's also been struggling with how her body has been changing throughout her reported pregnancy. A source told People, "Her body is changing and she's very self-conscious about it. She's always been insecure that she's not as curvy or pretty as her sisters." The source added,
Kylie is only trusting her closest friends and her sisters right now. She wants to reveal things on her own terms but she's of course having fun teasing everyone. She knows all the attention is on her and her baby bump, but she won't share until she wants to.
Rumors that Kylie Jenner and Travis Scott are reportedly having a baby started on Friday, Sept. 22, when I had decided to take a 24-hour break from Twitter. Never doing that again! A source told People,
They [Kylie and Travis] started telling friends a few weeks ago. The family has known for quite some time. She is really excited and so is Travis.
According to People, Scott is really excited about the reported baby (which is reportedly a girl) and is eager to make sure things go smoothly from here on out. An insider told the outlet,
Travis is so excited about the baby. They're both trying to enjoy this time for themselves and keep it private as long as they can. They know it's going to be a frenzy when they do come out. Travis is crazy about Kylie and he feels so lucky to have her and the baby. The family has been welcoming — they know how important it is to Kylie that everyone gets along.
I don't know about you guys, but I feel like I've aged 50 years waiting for Kylie Jenner to confirm whether or not she's pregnant. Just freaking tell us already, Kylie!