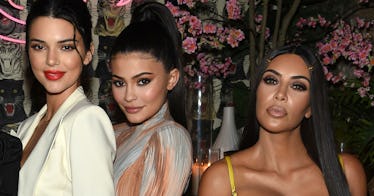 Someone Asked Kylie Jenner About The "Kardashian Curse" & Her Response Was So, So Shady
Dimitrios Kambouris/Getty Images
Have you guys heard of the "Kardashian Curse"? Ya know, that persistent phenomenon where any man who dates a Kardashian or Jenner quickly finds his personal or professional life unraveling before his eyes? Yeah, Kylie Jenner and Travis Scott aren't worried about that. The dynamic couple sat down for their first cover story as a couple with GQ magazine and put any doubts about trouble in their relationship to rest. In fact, Kylie Jenner's comments about the "Kardashian Curse" basically throw shade at everyone who has dated her or her family, but not Scott.
If we do a quick roll call, you can see how and why the theory originated. The Kardashians do have an impressive history of dating high-profile men who, in one way or the other, either fell out of favor with the public, their own personal careers disintegrated, or they simply disappeared into the ether where the press no longer cares about them. Some of Kim's famous exes include Ray J, Reggie Bush, and her two ex-husbands, Damon Thomas and Kris Humphries. Now that she's with Kanye West, it's like those relationships didn't even happen! Of course, fans will remember Khloé's tumultuous relationship with her ex-husband, Lamar Odom, not to mention the cheating scandal surrounding her current boyfriend, Tristan Thompson (plus a brief fling with rapper French Montana somewhere in the middle). Obviously, Kourtney and Scott Disick have suffered a decade's worth of drama together before finally calling it quits. Then, there's Kris Jenner and her extremely publicized marriages and divorces from Olympic athlete Caitlyn Jenner and the late Robert Kardashian.
Not for nothing. It's one hell of a track record.
For Jenner, the curse is nothing but another silly story out there circulating about her and her famous family. She understands the pressure and exposure that come with hanging out close to her and her fam are often too much for other people, and that's likely where the rumor originated. Jenner tells GQ, "They come and can't handle it."
For example, Jenner explains if a negative story breaks in the press she and her sisters are more equipped to roll with the punches. However, not everyone close to her feels the same. She says,
...It's how I get over them so fast. Trav, for example, he's like, 'Wait...but how do you just get over this?' He gets more angry about things. It's not just him. It's Jordyn [Kylie's best friend] who I've seen affected. It's everyone around us that aren't used to it. And we're just like, 'Oh, that'll go away in a day.'
As for the curse being specific to Kardashian love interests, Jenner says people have got it all wrong. "But it's not just men—it's friends, it's people who come and just don't know how to handle it. It's the negative. There's a lot of people who love us, but there's also a huge handful of people who don't like us," she explains. To put it bluntly, Kylie's basically saying, "It's you, not us."
However, if you think Travis Scott is worried about being "cursed," you are sorely mistaken, my friend. As he puts it, "Nervous for what? I'm on my own island. So hey, come over there to Astroworld. I'm not into all the other shit. I don't get involved. I'm over here. Kylie is different."
I won't argue with that. She is different. By the age of 21, she is going to be the world's youngest "self-made billionaire" according to Forbes magazine. She runs a cosmetic empire, owns multiple houses, and managed to hide her pregnancy for a full nine months as one of the most high-profile celebrities on the entire planet. If she says the "Kardashian Curse" is bullshit, then I believe her.
God, I love you two.