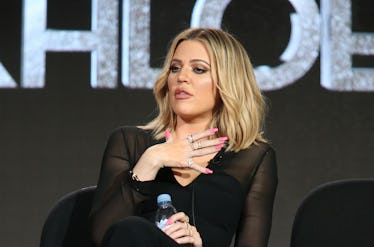 Khloe Kardashian Clapped Back At A Troll Saying She Cursed Tristan Thompson & Yikes
Frederick M. Brown/Getty Images Entertainment/Getty Images
And the Khloé Kardashian and Tristan Thompson saga continues. While the new mom tries to work out her relationship with her baby's father, fans can't help but pry into her personal business as much as they freaking can. This includes a recent Cleveland Cavaliers basketball game where one sports fan just couldn't leave Kardashian alone, claiming she "cursed" Thompson. (Hey haters, just a reminder: Thompson allegedly cheated on Khloé, which would make any negativity his fault!) Elite Daily reached out to her team for comment on the cheating scandal but did not hear back by the time of publication. Anyway, Khloé Kardashian's comment about "cursing" Tristan Thompson is one of her many epic clapbacks reminding all of us to back the F up and leave her the F alone.
The "Kardashian Curse" is a popular theory suggesting any man, particularly one who is a professional athlete, who decides to date a Kardashian will wind up with an unlucky fate. Some people are saying any bad luck Thompson sees on the court might be thanks to the stupid curse. When this one fan spotted Khloé behind him at Thompson's May 19 playoff game against the Boston Celtics, he just couldn't let it go. According to Khloé, he spent the whole game trying to get a picture of her, and when he did, he captioned it, "Issa Kardashian curse."
Hey, kid. You better believe Khloé can see you and your stupid camera. She tracked him down on social media and left a scathing comment, calling him "thirsty." Khloé wrote:
Corny ass! You went to a playoff game but were on your phone for almost all of the 4 quarters, thirsty as f*ck trying to get a picture of me. Dude... watch the game! We were all talking about how crazy you looked at a game acting like that.
The Cleveland Cavaliers also happened to win this particular game against the Celtics (86 - 116), so Khloé's presence was demonstrably not a hindrance.
The sad truth is this kid's post is just a small example of the kind of heat Khloé is catching from all angles right now. Ever since videos surfaced of Thompson seemingly kissing other women, Khloé's been playing defense with the press and haters. Elite Daily reached out to Kardashian and Thompson's teams regarding the footage but did not hear back by the time of publication. Everyone assumed she would throw in the towel with her allegedly cheating boyfriend, but according to sources, she is sticking it out. The fact that she's still attending Thompson's games seems to prove she's in this for the long haul.
An insider told Entertainment Tonight she's in it to win it with Thompson and the idea of being a single mom is just not for her. Elite Daily reached out to Kardashian and Thompson's teams about the report but did not hear back by the time of publication. The source explained, "Things are more complicated now that there is a child involved, but it was causing more stress on Khloé by being in limbo with Tristan. Khloé decided that the back and forth and indecisiveness on what they were going to do was taking a toll on her. She wants to brush things under the rug and move forward."
The insider also said she definitely has "guidelines and boundaries" for Thompson, but is willing to make things work for their daughter, True. The source said:
[Khloé] can't imagine being a single mom and giving up her dream life she had planned with Tristan. People make mistakes and she has found it in her heart to forgive him. He has vowed to change and she feels that he has learned his lesson. All eyes will be on him and he doesn't want to ever let Khloé down again. Khloé doesn't care what anyone thinks about what's she's doing. It's her life and this was her decision and only her decision. That's all that matters.
For now, all haters can take a hike. Khloé and Thompson have both remained off the record regarding the cheating allegations but have been spotted together in public, confirming they're definitely still in touch.
Just a little reminder if you come for Khloé, she will come for you harder and with more Instagram followers.
Check out the entire Gen Why series and other videos on Facebook and the Bustle app across Apple TV, Roku, and Amazon Fire TV.