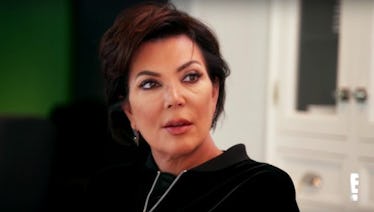 Kris Jenner Opens Up About Caitlyn Jenner In Emotional 'KUWTK' Clip: 'I'm Done'
E!
The level of excitement I have to read Caitlyn Jenner's upcoming memoir is comparable to how I felt waiting for "Harry Potter And The Half Blood Prince" to come out in 2005 (please note that I am not "Deathly Hallows"-level excited, I have some dignity).
The former-Olympian's memoir, "Secrets Of My Life," is set to be released sometime this spring. And while the thirsty public may be eagerly awaiting its arrival, the Kardashian family seems less than thrilled.
In a new clip for this Sunday's episode of "Keeping Up With The Kardashians," Kris Jenner tells daughters Kim Kardashian West and Khloé Kardashian how she feels completely misrepresented by her ex-husband.
Kris, who is clearly shaken after reading Caitlyn Jenner's memoir, tells Kim and Khloé,
I read it and basically the only nice thing she had to say was that I was great, socially, at a party one time. None of it makes sense. Everything she says is all made up. Why does everything have to be that Kris is such a bitch and an asshole?
Granted, while Kris was definitely "great socially" at a party MORE than one time, she is clearly distraught over what she believes to be an unfair representation of herself.
Kris goes on to tell her daughters, who stare back with dropped jaws,
I was curious and said what the hell is going on, she said, 'You just would never understand.' And then, all through the book, 'Kris knew, Kris knew before I ever made love to her,' and I'm like, 'What?'
The clip concludes with Kris telling her daughters, straight-faced and sternly,
I've never been so angry and disappointed in somebody in my whole life. I'm done. 
Kris and Caitlyn Jenner are parents to Kendall and Kylie Jenner and were married for over 20 years before she began her transition two years ago.
Although the book isn't out yet, an excerpt on Kris and Caitlyn's relationship has been released:
I tell Kris about my gender issues before I make love to her. This will always be a subject of dispute between us. She insists that she was taken by surprise by my ultimate transition to Caitlyn, which obviously means in her mind that she did not know enough.
It seems like both the general public and the family will all learn a lot about Caitlyn Jenner's life when her book is released.