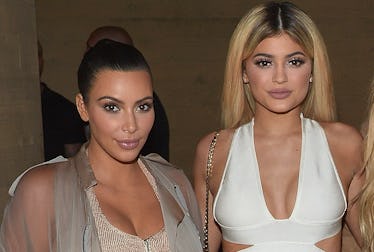 Kylie Jenner Sent A Gift To Kim Kardashian For Baby Number 3 & It's So Precious
Kylie Jenner has come out of her social media hiatus a bit this week. On Jan. 16, she finally posted on her Instagram story after it being silent for a while (she still hasn't posted an actual photo since Christmas). And now, Jenner made a quasi appearance on Kim Kardashian's Instagram story when Kardashian posted a photo of what Jenner sent her and Kanye to celebrate the arrival of their daughter. Kylie Jenner's gift to Kim Kardashian for baby number three is so sweet, and might be a hint that she could be preparing to return to social media. Jenner sent Kardashian a heart-shaped bouquet of white and pink roses, and they're gorgeous. Kardashian simply captioned the photo, "Thank You @kyliejenner."
Kris Jenner also sent Kardashian a gift to celebrate the arrival of Baby West. She sent her daughter and son-in-law an adorable pink cake with little frosting roses all over it, so clearly this family knows Kim Kardashian has a thing for roses. Kardashian posted a photo of the cake (which is so gorg it should probably be put in a museum and not eaten) on her Instagram and Snapchat stories, captioned "Thank You Mom."
This was Kylie Jenner's gift to Kim, Kanye, North, and Saint:
And this was Kris Jenner's gift to the family:
What did I tell you about that cake?! On Tuesday, Jan. 16, Kardashian announced the birth of her and West's second daughter in a statement on her app. The statement read,
January 15, 2018, 12:47 a.m. 7 lbs 6 oz. Kanye and I are happy to announce the arrival of our healthy, beautiful baby girl. We are incredibly grateful to our surrogate who made our dreams come true with the greatest gift one could give and to our wonderful doctors and nurses for their special care. North and Saint are especially thrilled to welcome their baby sister. Love, Kim Kardashian West.
While no one in the family has publicly commented about the baby girl's arrival just yet, Khloé Kardashian and Kris Jenner both retweeted Kim's birth announcement and we clearly know Kris Jenner and Kylie Jenner sent the family gifts.
The mama posted a photo of her on Twitter and Instagram in shorts, a crop top, a zip-up hoodie, and heels and captioned the photo, "#momofthree." I don't know why, but I'm crying in the club right now!
According to TMZ, Kim Kardashian and Kanye West were in the delivery room as their surrogate gave birth to their third child at Cedars-Sinai Medical Center in L.A. West reportedly stood behind a curtain while Kardashian was with the surrogate and doctors, a source told the outlet. Kardashian was reportedly the first person to have skin-to-skin contact with the baby girl, and West came out from behind the curtain to hold the baby moments after she was born. TMZ also reports that Kris Jenner, as well as Kardashian's sisters, were all in the hospital waiting for Kim and Kanye to let them know the news.
It's not clear whether North and Saint West have met their baby sister yet, but I'm sure they have by now and the family is enjoying their first week as a family of five. In an appearance on The Ellen DeGeneres Show when her surrogate was still pregnant, Kardashian revealed North and Saint were excited about the upcoming arrival of their baby sister, but that they didn't 100 percent understand what it all meant yet. Kardashian told DeGeneres,
My daughter, she's really tricky. We had a baby shower over the weekend, and I thought: 'I really do want a baby shower because I want her to feel that something's coming, and I really want her to understand.' People brought toys and gifts [to the shower], and we were opening them all up the next day and North said, 'Mom, since baby sister's not here, I think I need all of her toys in my room and I'll play with them and just make sure they're OK for baby sister.'
This interview was also the moment where Kardashian accidentally revealed she and Kanye were expecting a baby girl! What a time, guys. What a time.