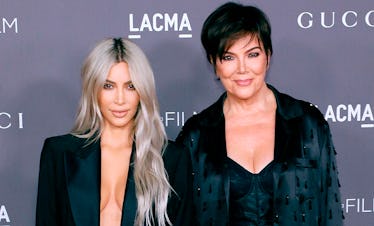 Kris Jenner Sent Kim Kardashian The Sweetest Gift To Welcome Baby Number 3
Kim Kardashian and Kanye West welcomed their third child into the world on Monday, Jan. 15 around 1 a.m. Kardashian announced the arrival of their daughter on her app in a statement that said the baby was healthy and the family is over the moon to welcome her. Mama Kris sent the family a present to celebrate, and Kris Jenner's gift to Kim Kardashian for baby number three shows how happy she is to have another grandchild to spoil. While Kardashian's birth announcement for her daughter didn't reveal anything about her name, fans are still living for it. Kardashian's statement on her app read,
January 15, 2018, 12:47 a.m. 7 lbs 6 oz. Kanye and I are happy to announce the arrival of our healthy, beautiful baby girl. We are incredibly grateful to our surrogate who made our dreams come true with the greatest gift one could give and to our wonderful doctors and nurses for their special care. North and Saint are especially thrilled to welcome their baby sister. Love, Kim Kardashian West.
Kardashian posted a photo of Jenner's gift on her Instagram story on Tuesday, Jan. 16, revealing Mama Kris sent her a pink cake that literally looks too beautiful to eat.
She captioned the photo "Thank You Mom" in pink lettering. The cake itself is covered in little pink frosting roses, and I think it might actually be a sin to eat it? It looks more like a work of art than food.
She posted an even more high-def photo of this cake on her Snapchat story.
I am genuinely concerned about the well-being of this cake! Kris Jenner didn't release any official statement about the arrival of her seventh grandchild, but she did retweet Kardashian's birth announcement for the baby, as did Khloé Kardashian, who's expecting her first child later this year with boyfriend Tristan Thompson.
Part of Kardashian's birth announcement thanked her surrogate for making her and Kanye's "dreams come true" and giving them the "greatest gift one could give." The identity of their surrogate still hasn't been revealed, though. Honestly, I really doubt we're ever going to learn who their surrogate was.
Rumors started circulating on Jan. 12 that Kylie Jenner was reportedly in labor. The rumors started on Twitter and were later reported as false by TMZ. According to several sources, Jenner was not in labor and is still reportedly due in March. Still, lots of fans aren't buying that Jenner isn't the surrogate and think it's too much of a coincidence that rumors about Jenner being in labor surfaced just three days before Kim and Kanye's baby was born.
Kardashian opened up about her surrogacy experience with Entertainment Tonight, saying it's much harder to experience than people expect. "You know, it is really different," she said. "Anyone that says or thinks it is just the easy way out is just completely wrong." She added,
I think it is so much harder to go through it this way, because you are not really in control. And, you know, obviously you pick someone that you completely trust and that you have a good bond and relationship with, but it is still ... knowing that I was able to carry my first two babies and not, you know, my baby now, it's hard for me. So, it's definitely a harder experience than I anticipated just in the control area.
Kim noted that even though she hated going through the intense health issues she had while pregnant with North and Saint, she still struggled with the fact that she wasn't carrying her third child herself. She said,
I hated being pregnant and I never thought I'd ever ... I thought this was going to be so easy, but you know, even in how much I hated it, if I could do it myself I would have preferred that. So, that inner struggle is kind of hard, but I am just rolling with it and it is what it is.
Now all we have to do is wait for the first picture and the name! I bet it's going to be, like, Angel West or something.