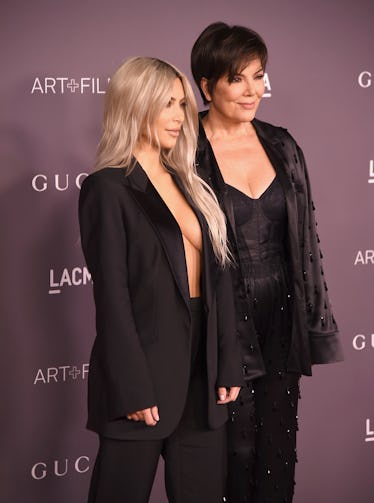 Kim Kardashian Clapped Back At A Social Media Troll With The Best Comment
Kevin Winter/Getty Images Entertainment/Getty Images
Wait a second. Is Kim Kardashian, like, hilarious? The reality TV icon has made a serious hobby out of trolling her family and friends these days on social media, and her latest "victim" is her mom, Kris Jenner. Jenner recently posted an ad "looking for a personal assistant" on a new Bumble job search app, and Kim's comment to her post was on point. Kim Kardashian's reaction to Kris Jenner's Bumble Bizz profile is subtle, funny, and giving fans exactly what they want. Just a smidgen of sass, ya know?
Alex Williamson, Head of Brand at Bumble, spoke with Girl Boss about the sister application to the popular dating app. She explained, "On Bumble Bizz, you have to make the first move. You have to start networking within 24 hours after matching or that match expires, and the person on the other end [also] has to reply within 24 hours or the match expires." It's designed to help women network and make valuable connections in their line of work. Hilariously, that includes Kris Jenner. (???)
Jenner posted her Bumble Bizz "profile" on Instagram on Monday, April 30, with her title listed as "Entrepreneur, Producer, Brand Builder, Manager." (Sure... I mean... technically speaking, yeah. That checks out.) Her profile states she is "looking for a Personal Assistant and using Bumble Bizz to connect with candidates. Match with me to see if you're a good fit!" The caption she included said:
Excited to announce I'm searching for the newest member of my team using @BumbleBizz. #ad Download the @Bumble app now, select "networking" mode & create your #BumbleBizz profile to see if you're a match to be my Personal Assistant. Applications close May 18th.
Obviously, fans a had a lot to say in the comments. Instagram users called it a dream job and went to town tagging their friends.
Work for Kris Jenner, you say? Apply on my phone, you say? It's that easy, you say? Tag, tag, tag, tag, tag, tag, tag.
Of course, for every one supporter, it seems like the Kardashians have two haters. One popular Kardashian trolling account called @norisblackbook re-shared Jenner's picture but reworked the job description. They wrote:
Kris is using @bumble to find her next assistant. Qualified candidates must know how to make a martini, find work for Kourtney, coordinate and maintain a calendar of Rob's court dates and they must be an expert at ignoring media inquiries about pregnancies. Is this you? Apply today!
Anddd that was Kim's cue.
Sure, she could have ignored the comment. Sure, she could have defended her mom. Sure, she could have chastised the account for using her daughter's photo as their profile picture. But she didn't, cause she's cooler than that. Instead, Kim sarcastically posted the girl raising her hand emoji, essentially offering herself up for the @norisblackbook's version of the job listing.
Fans were loving it. Commenters tagged Kim and posted laugh/crying emojis, claimed they were "dead," and talked about how shocked they were that Kim even followed the account at all.
Silly fans, Kim knows everything! It's part of the magic of Kim Kardashian!
Fans were particularly delighted to see this light-hearted act during a pretty intense time for her family. Everyone knows Kim's sister Khloé is really going through it while cheating rumors circulate about her baby's daddy, Tristan Thompson (Elite Daily reached out to Kardashian and Thompson's teams regarding the reports but did not hear back by the time of publication). Plus, there was that whole Twitter rant Kim's own husband, Kanye West, went on not too long ago. Still, Kim seems to be taking everything in stride, launching her own new fragrance and posting sexy nudes on Instagram.
Hey, if anyone knows how to keep it moving, it's Kim.
Check out the entire Gen Why series and other videos on Facebook and the Bustle app across Apple TV, Roku, and Amazon Fire TV.