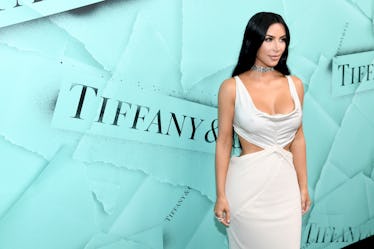 Kim K's New KKW Body Campaign Is Refreshingly Different Than What She's Done Before
Nicholas Hunt/Getty Images Entertainment/Getty Images
Months after coming under fire for harmful comments appearing to promote eating disorders, Kim Kardashian seems to be shifting the narrative with her latest Instagram posts, and TBH, it's about time. Compared to her ads from past years, Kim Kardashian's KKW Body Campaign with cellulite, stretch marks, and bodies of all shapes and sizes is a total departure. The reality star, who's no stranger to controversy surrounding the various tone-deaf and damaging body comments she's made over the past couple of years, appears to be taking a step in the right direction with her latest campaign, and it's so refreshing.
On Friday, Oct. 26, Kardashian West decided to surprise her fans by posting to her KKW fragrance Instagram channel for the first time in months. Rather than showing off her own nude physique, which is all over the Body fragrance's Instagram account (the perfume bottle is actually a mold of her naked body, after all), the Keeping Up with the Kardashians personality shared three different photos that seem to be a stab at promoting body diversity and inclusivity.
Simply captioned with the hashtag #KKWBody, the un-retouched images on the KKW fragrance IG and Kardashian West's official Twitter account feature curves, cellulite, and stretch marks. Fans are flooding to the comments section with messages of support, with some users writing, "Really bodies well done KK!!!" and "This makes me so happy. I could never pose like this, I'm extremely self conscious [sic], but this is absolutely wonderful."
While the response has been mostly positive, a few users have pointed out that Kardashian's track record isn't the best when it comes to body positivity, and a few posts don't suddenly make her a role model for the movement. The mom-of-three has made a few missteps in the past year, first promoting the sale of appetite-suppressing lollipops, sharing a "fat loss" post on her app, and then, most recently, appearing to bask in comments from her sisters about her looking "anorexic." Elite Daily reached out to Kardashian West's team for comment on the backlash, but did not hear back at the time of publication.
In an Instagram Story video shared to Kim's account back in July, Kendall could be heard telling her older sister, "No, like I'm really concerned. I don't think you're eating. You look so skinny."
Appearing to bask in her sisters' comments about her looking "anorexic," Kim responded with the most uncomfortable comment. "You guys! I'm not that skinny!" she said. "I'm down to 119 pounds." Elite Daily reached out to Kim, Khloé, and Kendall's teams for comment at the time of the post, but did not hear back at the time of publication.
Considering that the star has such a big social media platform, fans and critics alike were understandably concerned about her promoting unhealthy body standards as well as a focus on losing weight and staying skinny at whatever cost.
However, on Oct. 2, Kardashian appeared to take the backlash to heart as she issued an apology for seeming to condone unhealthy body standards while making an appearance on the Pretty Big Deal with Ashley Graham.
"I honestly, looking back in having said that, I 100 percent completely understand where people would be coming from that felt that way," Kardashian said during the podcast appearance. "So my intention is never to offend anyone and I really, you know, apologize if I offended anyone, because an eating disorder is- I know people that have serious eating disorders that have been in and out of the hospital for 15 years—close people. So I've like, been through- I have experienced it enough to have, like, known better."
TBH, it was a pretty mature response, and it looks like Keeks is trying to be more mindful about the body standards she is promoting to her fans. I wouldn't go so far as to call Kim a body positive role model, but if anything, I can definitely applaud her for using her significant platform to celebrate women of all different shapes and sizes.