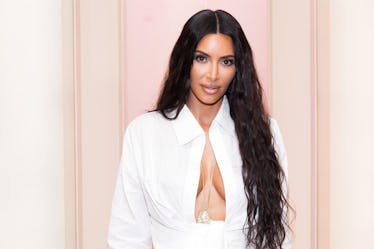 Kim Kardashian Just Apologized For Her Insensitive Weight Loss Comments
Presley Ann/Getty Images Entertainment/Getty Images
Kim Kardashian isn't usually apologetic about her behavior. For over a decade, the Keeping Up with the Kardashians star has charged forward in all aspects of her life with seemingly no regrets. But now she's apologizing for something totally unexpected: comments about her weight. Kim Kardashian's apology for her insensitive weight loss comments comes two months after a video surfaced of her sisters gushing about her slim figure.
In the video, Kardashian can be seen reveling in comments from her sisters about how skinny she is. "What? What? Oh my God, thank you!" Kardashian said in response to Kendall expressing concern about her looking like she hasn't been eating. She later revealed that she weighs just 119 pounds. The video went viral and caused a lot of controversy, especially among people who advocate for healthy eating and exercise habits.
When Kardashian participated in the first episode of the Pretty Big Deal with Ashley Graham podcast on Oct. 2, she clarified the video for listeners. Apparently, Kardashian feels she's all too aware and knowledgeable about eating disorders to have made such insensitive comments about weight loss.
"I honestly, looking back in having said that, I 100 percent completely understand where people would be coming from that felt that way," Kardashian explained during the podcast. "So my intention is never to offend anyone and I really, you know, apologize if I offended anyone, because an eating disorder is- I know people that have serious eating disorders that have been in and out of the hospital for 15 years—close people. So I've like, been through- I have experienced it enough to have, like, known better."
Here's a look at the video that caused all the controversy:
In further clarifying her stance on the issues of weight loss and eating disorders, Kardashian explained that sometimes she can get "carried away" when joking with her sisters.
"You know, sometimes when you're- you know I was, like, with my sisters and we were laughing and joking and it's loud and you are- you know, I dunno, I guess, sometimes you can get, like, carried away and just, it was insensitive, you know, and it definitely wasn't my intention though," Kardashian said. "And I think, especially my fans and everyone that was watching was supportive, like, 'OK, look, like, maybe you guys shouldn't have said that but I know what you were saying.'"
Clearly, Kardashian felt a need to address the controversy, despite the fact that the video is months old already. It seems as though it was weighing on her and she needed to clear the air. And you know what? That's a really commendable thing for her to do. It just proves how self-aware she can be in moments when the world thinks she isn't.
In addition to apologizing for her comments, Kardashian also revealed that she spent some time working out with a trainer six days a week to lose weight.
"I lost 20 pounds and it hasn't been easy," she said.
So, even from that perspective of having lost a bit of weight through hard work, Kardashian seems to know that her comments were insensitive. All in all, it really seems like Kardashian is trying to be more conscious of what she says, which isn't a bad thing. Good for her!