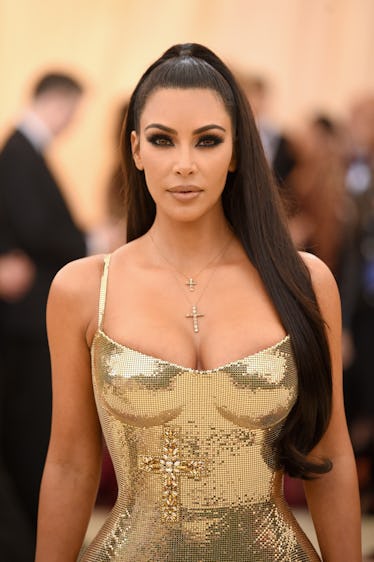 People Are Pissed At Kim Kardashian Over This Ad She Posted To Her Instagram
Jason Kempin/Getty Images Entertainment/Getty Images
How many licks does it take to spark an outrage on social media? Just one, it seems. Fans, including The Good Place actress Jameela Jamil, are not happy about Kim Kardashian's lollipop ad on Instagram, you guys. And the Keeping Up With The Kardashians star is getting dragged big time. See, this wasn't just a regular old lollipop she promoted to her 111 million followers — it was an appetite-suppressing one. And now, people are pissed at Kim for using her platform to set a bad example.
What happened was this: The reality star shared a picture of herself on her Insta story sucking on a lollipop from Flat Tummy Co., then encouraged her fans to purchase the product. "First 500 get 15% off!" she wrote. She also posted the same image on her Instagram feed, although it's since been deleted. But not before Jamil had the chance to tweet out a screenshot. "You guys… @flattummyco just dropped a new product," Kim said in the caption. "They're Appetite Suppressant Lollipops and they're literally unreal. They're giving the first 500 people on their website 15% OFF so if you want to get your hands on some… you need to do it quick! #suckit."
Not gonna lie, I do love that hashtag.
Elite Daily reached out to Kim's team for comment, but did not hear back by time of publication. Anyway, here's a screenshot of her post from her story:
Jamil responded to the post on Twitter and she didn't hold anything back.
"No. F*ck off. No," she wrote. "You terrible and toxic influence on young girls. I admire their mother's branding capabilities, she is an exploitative but innovative genius, however this family makes me feel actual despair over what women are reduced to."
Tell us how you really feel, Jamil! And she didn't stop there. An hour later, the actress followed up with a second tweet:
"MAYBE don't take appetite suppressors and eat enough to fuel your BRAIN and work hard and be successful," she said. "And to play with your kids. And to have fun with your friends. And to have something to say about your life at the end, other than 'I had a flat stomach.'"
This is SO on point! Look, I get that Kim has been super open on the show about the fact that she struggles with her weight and is plagued by insecurities about her body. She's hawked waist-trainers and meal-replacement shakes in the past, too, so I kind of didn't think twice about the lollipop pic. And I'm guessing some of Kim's followers didn't, either — at least until Jamil pointed it out.
Jamil really does make an exellent point about Kim's influence on young girls, and I really do think Keeks should be using her celeb status to promote healthy eating habits. I'm just not so sure the public would buy it coming from someone known for drinking Fit Tea and lasering off cellulite. I know I wouldn't. But would I happily try a weight loss lollipop because she said it was "literally unreal"? I'd be lying if I said I didn't click over to the website. I know it's wrong, but I just couldn't help myself. And I guess that's part of the problem.
Jamil, however, has made it her mission to use her fame to get women to see how incredible they are on the inside. And this morning, she threw another tweet into the mix, this time encouraging her fans to follow the "I Weigh" movement Instagram account she started "for us to feel valuable and see how amazing we are, and look beyond the flesh on our bones."
YASSS, queen!
Meanwhile, besides removing the post from her feed, Kim has yet to respond to all the backlash. But judging from the way she reacted when she was slammed for posting naked selfies back in February, I'm pretty sure I know what she's thinking.
It's either that or, you know, #suckit.