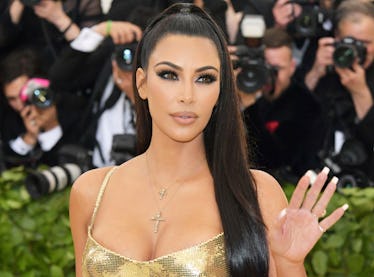 Fans Are Pissed At Kim Kardashian Again Over This Post She Published To Her App
Neilson Barnard/Getty Images Entertainment/Getty Images
Kim Kardashian doesn't take a hint sometimes. While the reality star and beauty mogul often interacts with her fans on Twitter, she's not great at taking their criticisms to heart. And by not great, I mean her actions seem to show that she doesn't pay attention to fans' concerns at all when it comes to the things she posts. It might be a defense mechanism she's built up after years of being aggressively trolled, but she really doesn't seem to think the criticism her fans give matters. Kim Kardashian's fat loss app post is an example of just that.
Fans got angry at Kardashian recently for posting about and promoting the sale of appetite-suppressing lollipops. She posted a photo of herself on Instagram eating one of the lollipops and said, "You guys… @flattummyco just dropped a new product. They're Appetite Suppressant Lollipops and they're literally unreal. They're giving the first 500 people on their website 15% OFF so if you want to get your hands on some… you need to do it quick! #suckit." People on Twitter were not pleased with her lollipop ad, and it prompted lots of responses from a variety of people.
The Good Place actress Jameela Jamil was especially critical of the post, saying in multiple tweets how she feels Kardashian's ad is damaging to young girls. Tweeting a screenshot of Kardashian's deleted ad, she said, "No. F*ck off. No. You terrible and toxic influence on young girls. I admire their mother's branding capabilities, she is an exploitative but innovative genius, however this family makes me feel actual despair over what women are reduced to." In another tweet, she said, "MAYBE don't take appetite suppressors and eat enough to fuel your BRAIN and work hard and be successful. And to play with your kids. And to have fun with your friends. And to have something to say about your life at the end, other than 'I had a flat stomach.'"
Despite the backlash to her lollipop ad, on May 29, Kardashian posted on her app and on Twitter about how to "maximize fat loss," and people aren't happy.
The description for the post says it's about Kardashian's "weekly cardio workouts." While it's not bad to promote a healthy exercise routine, people don't feel that's what Kardashian is doing. All of her posts about "fat loss" and things that are meant to be "weight loss hacks" (i.e. the lollipops) don't promote healthy body standards because they're focused on getting skinny and staying skinny rather than being focused on being healthy. There's a huge difference between those two things, but Kardashian's posts don't seem to recognize that. And the fact that she gets paid sponsorships from those "weight loss hack" companies is problematic, to say the least, because she's being paid to promote unhealthy body standards.
The people criticizing Kardashian's posts about weight loss are urging her to promote a more body positive message because she has such a massive platform.
One Twitter user said, "I respect you. You are a smart business woman. But, I don't like you always talking bout 'fat loss' or 'secret to losing weight'. So many young girls look up to you!!! Embrace curves and talk about being strong instead." Another said, "So first you promote lollipops to help with weight loss and now this?!?!? Call yourself a role model!"
Instagram reportedly deleted Kardashian's lollipop ad (a move it apologized for), but the image ultimately ended up back on her timeline — albeit without the caption promoting the product.
Kardashian has not responded to the backlash surrounding the "maximize fat loss" post, but I think it's unlikely we'll see a response at all. People have really had it with Kardashian's continued promotion of what they feel are toxic body standards. Appetite-suppressing lollipops are not a healthy way to lose weight because they're quite literally promoting the idea that weight loss is made easier if you just don't eat. But that is the farthest thing from healthy, and people are right to criticize Kardashian for promoting a product like that.
When it comes to her post on how to "maximize fat loss," losing weight and burning fat shouldn't be your only goal when it comes to implementing a new diet and/or exercise routine into your life. The focus should be on fueling your body with healthy foods and exercising to make your body strong. Hopefully, Kardashian will listen to the fair criticism she's receiving and post more body positive messages in the future.