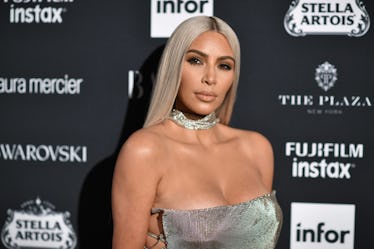 Kim Kardashian Posted Her First Family Portrait With Chicago & Fans Are Screaming
Dimitrios Kambouris/Getty Images Entertainment/Getty Images
Attention everyone, I have huge news. Kim Kardashian's first family portrait with Chicago has finally arrived, and it's actually family goals. I'm so emotional right now.
On April 4, Kardashian took to Twitter and Instagram to share a photo of her big happy family. In the photo, Kardashian poses next to hubby Kanye West with their children Saint and North. I'm already shedding tears at how grown up Saint and North look, but it's Chicago strapped to Kardashian's waist that's making me a complete mess.
Even though we've been able to sneak peeks at Chicago over the past few months, this is the first full family portrait of the Kardashian-West family, and it's honestly everything that I hoped it would be. From the mossy backdrop to North's adorable peace sign, I'm not sure a family can get any cooler than this. However, according to Kardashian's Twitter caption, capturing this precious moment wasn't as effortless as it appears. Apparently there was a lot of crying involved.
Kardashian wrote,
I don't think you really understand how hard it is to take a good family pic. This was all we got before all three kids started crying. I think I cried too
Heads up, I'm crying, too.
Rumors started flying in June 2017 about Kim and Kanye using a surrogate to have a third child, but it wasn't confirmed until Sept. 28, when Kardashian actually broke the news herself on Twitter by posting the promo for Keeping Up With The Kardashians Season 14. Kardashian revealed she chose to pursue surrogacy because having a third child herself would be extremely dangerous for her health. Kardashian had nerves throughout the whole surrogacy process, understandably. However, during a November 2017 interview with Ellen DeGeneres, Kardashian discussed how her daughter North has been ready to be a big sister since the beginning.
She said,
North is really excited about [having a sister]. [Having] a brother was a little trickier. Now, she's so excited. Let's see if it lasts. I've had to explain to her: 'OK, 4 in the morning when you come into my room, I have to be with baby sister. I have to feed her.'
Judging from that huge grin on North's face, I'd say she's still super jazzed about it.
Chicago was officially born via surrogate on Jan. 15. Kardashian shared the news through her app, and included details such as the time, her weight, and how excited she and Kanye are about their third child officially being in the world.
She announcement read,
January 15, 2018, 12:47 a.m. 7 lbs 6 oz. Kanye and I are happy to announce the arrival of our healthy, beautiful baby girl. We are incredibly grateful to our surrogate who made our dreams come true with the greatest gift one could give and to our wonderful doctors and nurses for their special care. North and Saint are especially thrilled to welcome their baby sister. Love, Kim Kardashian West.
At the time of the announcement, we still didn't know what the third Kardashian-West child's name would be. I don't think I'm the only one who was squirming in anticipation dying to know what the third baby would be called. Well, on Jan. 19, I was finally taken out of my misery, because Kardashian revealed Chicago's name via her app.
Since naming their oldest child North West, Kimye has become pretty much known as the couple that embraces nontraditional names for their kids. In fact, during her interview with DeGeneres, Kardashian openly talked about how she and Kanye gravitate towards unique, one syllable names.
She said,
I do like different name[s] — but short, easy to spell, one syllable... That's kind of my vibe.
North, Saint, and now Chicago. Name a more iconic trio, I'll wait. I don't know about y'all, but I absolutely cannot wait for the next Kardashian Christmas card.