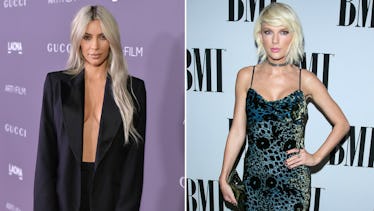 Kim K & Taylor Swift's Web Of Mutual Friends Makes Their Feud Even More Awkward
Neilson Barnard/Mark Davis/Getty Images Entertainment/Getty Images
Celebrity relationships and friendships are a rare breed. These famous faces have their lives played out in front of the masses, whether it's the good, the bad, or the straight-up shady. In Elite Daily's new series, It's Complicated, we're highlighting the biggest celebrity "feuds" that took over Hollywood and dominated our Sunday brunches for weeks on end. We'll take a deep dive into the lives and social media feeds of our favorite stars and dissect what happened in front of the camera, what went down behind the scenes, and everything you might have missed in between.
Unless you've been living under a rock for the last few years, you'll know that when it comes to Kim Kardashian and Taylor Swift, things are... not cool. It seems like the two A-listers can never just be on the same page, and their ~drama~ is always subtly hidden in plain sight. (I mean, hello, Taylor Swift's entire Reputation album had seemingly endless references to their feud, and Kim Kardashian sent a Valentine to all her "haters," which happened to include Swift. So. Much. Shade.) But what happens when your enemy is friends with your friends? How does it work? Should there be sides? It looks like these two celebs might have an idea as to what that feels like, because Kim Kardashian and Taylor Swift have mutual friends, and I can't even begin to imagine how awkward that must be during brunch dates.
I'm not even talking just one person who might be caught in the middle of Kim K and Tay's quarrel. No, no, no. There are a few people — celebrities, I might add — who are cool with both Kardashian AND Swift. You may know some of their names (just kidding, you will know all of their names), so let's see who is friends with who, and hope that nobody else gets dragged into the drama of Kardashian and Swift's feud.
Jennifer Lawrence
During an event at The Wing to promote the movie Red Sparrow, Lawrence joked that her relationship with Kardashian is "probably one-sided," as she's been very candid about how much she loves the Kardashians in the past. But Lawrence went on to say that the Kardashians "are smart, grounded and normal and funny." She continued, "They're very nice people, [they're] very close, [they have a] loyal bond with one another," which I think is a positive thing to put out into the world. She also says the Kardashians have "been absolutely lovely" to her.
It's clear that the Kardashians enjoy Jennifer Lawrence as a person, and J. Law made it verrrry apparent that she loves the Kardashian family just as much when she interviewed Kim K on Jimmy Kimmel Live.
In her interview, Lawrence said that before going on Kimmel, she had a chance to meet and have dinner with the Kardashian family at Kris Jenner's house. Sounds a lot like something a friend would do, no?
In her interview with Kim K, you can tell that the two gave off serious friend vibes:
And, just like she seems pretty close with Kardashian, she's also tight with Taylor Swift. At the 2014 Golden Globes, Swift was chatting with Ryan Seacrest when we saw J. Law sneak up behind Swift and photobomb her. Lawrence joked, saying, "I was going to come in and push you down the stairs. I was like, she'll crack up. She would really love that." Honestly, that's what I call friendship.
Swift also told Seacrest that she and Lawrence text each other frequently, especially after the other achieves something that they should be proud of. Lawrence chimed in as well, saying, "Oh, my God, I freaked out over the CMAs. I sent her a text message that was like six inches long."
It seems like J. Law isn't taking any sides and loves both friends without getting involved in their biz.
Cara Delevingne
Cara Delevingne has allegiance to both Kardashian and Swift, but hasn't been in the middle of their feud at all.
It's no secret that Delevingne was at Swift's Fourth of July party in 2016, and, according to The Sun, Swift and her beau Joe Alwyn reportedly stayed at Delevingne's in London in September of 2017.
"Taylor made the trip to England to spend time with Joe's family and friends, and Cara offered to have them at her place in Chiswick," a source told the site. "Obviously Taylor can stay at the world's swankiest hotels but that's not really her bag." A friend that lets you crash at their place is a friend, indeed.
Delevingne is most certainly in Swift's #squad:
But just as Cara is friends with Tay Tay, she's also friends with Kim K, and what's a girl to do with all of her famous friends?
Just, um, be friends with them, I guess?
Back in 2015, Delevingne and Kardashian were featured on the cover of Love magazine together, and Delevingne got to interview Kardashian about what kind of underwear she likes wearing and the meaning behind North's name, which signifies that they're probably good enough friends to be talking about those kinds of topics. Plus, it's widely known that Delevingne and Kendall Jenner are BFFs, so being cool with your best friend's sister is totally normal.
Karlie Kloss
Whether they're posting sweet birthday messages to each other on social media or writing songs that fans are convinced are about their relationship (Kaylor fans, you know what I'm talkin' about), it's obvious that Karlie Kloss and Taylor Swift are besties, through and through.
Even though many have questioned the closeness of their friendship in the past, both have been candid about how they appreciate the other's relationship, so fans are pretty sure that there's no bad blood (see what I did there?) between the two of them.
But just because she's Taylor's ride-or-die doesn't mean that she isn't chummy with the Kardashian clan. While she definitely isn't super close with Kim, she did tell the Britain's Times that Kardashian has been a "lovely person" to her in the past, despite not knowing her "that well."
While Kloss may not be tight with Kardashian, she still made sure that there were no harsh words said — so perhaps maybe Kardashian is not a friend, but she certainly doesn't seem like an enemy.
Plus, Kloss and Kendall Jenner seem to be friendly with one another (which makes Taylor Swift fans angry), so that's yet another person who gets along with not just Kim, but a second Kardashian-Jenner sister.
So many Kardashians to befriend, so little time.
I guess the moral of the story is that you should probably love your enemies, especially if your friends do. Because who needs all that drama in your life? Kim, Taylor... how about a truce?
If you joined forces, you'd have one legendary squad.