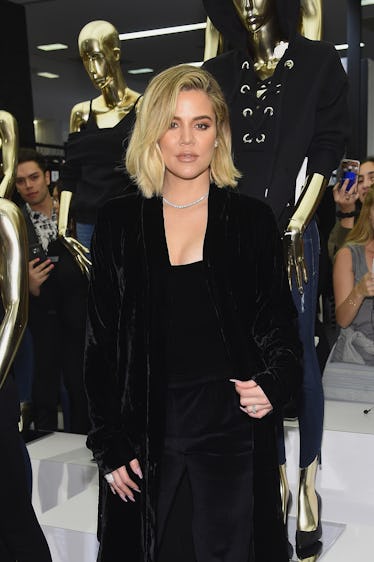 Khloé Kardashian Just Posted A Cryptic Quote About Healing A "Broken Heart" On Instagram
Jamie McCarthy/Getty Images Entertainment/Getty Images
ICYMI, Khloé Kardashian has been on an emotional Instagram Story posting spree lately that seems to hint that she's not sure where her head (or heart) is at when it comes to her relationship with Tristan Thompson. Now, fans are seriously wondering whether Koko is OK after she shared a message late Friday, Oct. 19 that's frankly confusing AF. Khloé Kardashian's Instagram about a "broken heart" is so cryptic, and honestly, it could be a bad sign for the future of her relationship. Elite Daily reached out to Kardashian's team for comment on post, but did not hear back by the time of publication.
It's been an emotional rollercoaster for Kardashian as of late, and she's been keeping loyal KUWTK-ers in the know about her mood du jour with quotes on her Instagram Story. Her feelings have run the gamut of being "brutally broken" to refusing to give up "despite the hell" she's experienced, and fans are keeping busy trying to get a read on what this all means for her and Thompson's relationship. And on Friday, it was another day, another cryptic message for Keeping Up With the Kardashians devotees to decipher.
Like her previous motivational quotes, Oct. 19's edition reads, "I don't know who needs this, but just know God is going to heal your broken heart. You're going to laugh again, you're going to trust again, and you're going to love again. God is going to restore everything you've lost."
OK, is it just me or does it sound like our girl Khlo is throwing in the towel on things with Thompson and ready to move on to greener pastures? Her message appears to allude to the cheating reports that came out back in April 2018. While the fitness guru was getting ready to give birth to baby True, boyfriend Tristan Thompson was reportedly photographed seemingly kissing other women who were not Khloé, which ignited a media firestorm. Elite Daily previously reached out to Khloé and Tristan about the infidelity rumors, but didn't hear back by publication. Just saying, you can't blame the girl for having trust issues.
According to recent reports, Kardashian is still dealing with the aftermath of the scandal and even put her reported move to Cleveland on hold to sort through her emotions. After all, the guy did allegedly cheat on her while she was pregnant and about to give birth, so it's understandable that she has some reservations about uprooting her whole life.
According to the Oct. 5 report from People, Kardashian temporarily canceled her moving plans due to trust issues. Elite Daily reached out to Kardashian's team for comment but did not hear back by the time of publication. An insider told the publication, "It's, of course, difficult to trust someone 100 percent who cheated days before he was about to become a dad."
The insider continued, "Khloé still struggles with this sometimes. She wants to move back to Cleveland, but she isn't sure what date she is [going]. The move is postponed for now. She seems very upset about leaving her family. She had the best summer in L.A."
Plus, recent reports from People on Oct. 17 say that the TV personality is "not sure" whether or not she's going to stay with her NBA beau at all, which is... not exactly the best sign. Paired with Kardashian's Instagram Story, it sounds like she's ready to "love again" and "trust again." Just maybe not with Thompson.
All in all, Khloé's head sounds like a pretty perplexing place right now, but you can't blame the star for mulling over her doubts and making sure she's doing what makes her happy. There's no rush for her to make a decision, and when she does, I know her fans and her sisters will be there to have her back.