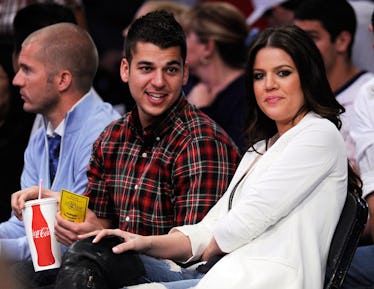 Khloé K Posted A Father's Day Message To Rob Kardashian & Yes, You Might Cry
Kevork Djansezian/Getty Images Sport/Getty Images
The Kardashians always write the cutest posts about one another, and Khloé Kardashian's Father's Day message to Rob Kardashian clearly isn't any different. It's undoubtedly gonna get you in your feelings, so go ahead and take a breath (or grab some tissues) now. You won't regret it.
The designer shared the message on her app on Friday, May 15, in which she raved about her brother's parenting skills and habits, while also explaining how happy their father, Robert Kardashian, would be of him. "My brother Rob is like my father in so many ways—his sense of humor, silly nature, the way he loves and respects family," Khloe gushed about her brother, who shares a 1-year-old daughter with his ex-fiancée, Blac Chyna. "But, seeing him as a father has been beautiful!"
"My dad would do anything for his kids and my brother is the same way for Dream," she continued. "I'm so proud of him! All he wants to do is make his daughter happy and give her unconditional love."
"It would mean so much to him that all of his grandchildren are so close," the reality star concluded. "We are an incredibly tight-knit family because he and my mom felt really strongly about that. It's family over everything and I love that my brother is the same way."
I'm sorry, guys. Just give me a moment.
It's no secret that Rob hasn't stopped marveling over his daughter, Dream Kardashian, since she was born back in November 2016. But what really makes Kardashian's tribute special is that Rob had expressed his desire to make sure Dream grew up with the same Armenian values his dad taught him before she was even born. So, really: What a job well done, Rob.
As for Kardashian's own boo, Tristan Thompson, she has yet to post a Father's Day message to him. My guess is that she's either waiting until the official day to give him all of her attention, or she's keeping their relationship out of the public eye. Things have been rocky between the two since early April, when the baller's cheating reports nearly broke the internet. If you have no idea what I'm talking about here, it all started on April 15, when both The Daily Mail and TMZ published videos that seemingly showed Thompson making out with multiple women while Kardashian was pregnant with their daughter, True Thompson. Elite Daily reached out to Kardashian and Thompson's teams at the time for comment on the videos, but did not hear back by the time of publication.
But they've been on the road to redemption ever since. He and Kardashian attended a friend's birthday party together on June 9, and she also cheered him on during game three of The NBA Finals on Wednesday, June 6.
The cheating reports are said to have changed their relationship, so you honestly never know what to expect with these two. Back in May, a source told People that some days are better than others for the couple, saying: "She has good days and bad days with Tristan. They had a very calm relationship before those videos and pictures were released. Now their relationship has changed." Elite Daily reached out to Kardashian about the source's comments, but has not heard back by the time of publication.
The source added: "She thinks it's up to him to prove himself that he can be a great partner and dad. She's definitely more needy and in his face now. This has been causing some conflicts."
I don't know if you guys are looking forward to seeing a Father's Day post from Khloé about her man, but this post in honor of Rob is more than enough for me.