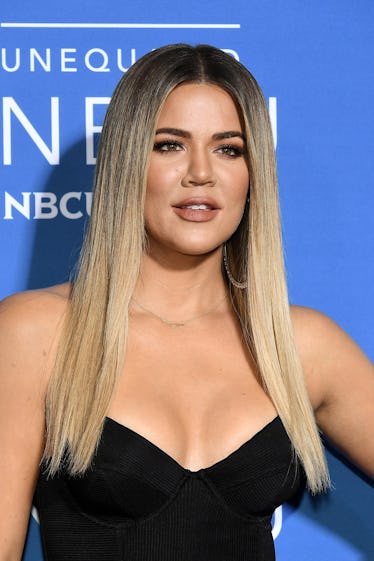 Khloé Kardashian Is Having A "Welcome Home" Party & Um What Is Happening
Dia Dipasupil/Getty Images Entertainment/Getty Images
Leave it to the Kardashians to make Father's Day a totally girl-powered event. Even though she's reportedly been staying in Cleveland, OH over the past few months, it appears that Khloé Kardashian is having a "welcome home" party to celebrate her triumphant return to LA. Welcome home, girl.
Even though nothing has been confirmed about whether the Good American designer has returned to Los Angeles for good, her recent Snapchat stories hint that might be the case. On June 17, Kardashian shared a photo of pink and white balloons that read "Welcome home Khloé and True." In addition, Kardashian shared photos of two adorable sets of cookies that resemble baby True's face, and some even have actual pictures of True adorning the pastries. I'm not surprised at all that the Kardashians would throw the most extra "welcome home" party in existence. Elite Daily reached out to Kardashian's team for comment on the party and Kardashian's living situation, but did not hear back in time for publication.
To be honest, I've always pictured Khloé as a total California girl at heart. Who knows if she's back for good or not, but I'd be lying if I said I wasn't slightly excited at the thought.
No one is completely sure what's exactly happening in the ongoing saga of Kardashian and her boyfriend, Tristan Thompson. However, the two have been seen in public together quite a bit recently, so I guess things are looking up for the pair.
In April, the entire world was shook when videos were released of Kardashian's boyfriend, Cleveland Cavaliers player Thompson, apparently kissing another woman while Kardashian was nine months pregnant. Elite Daily reached out to Kardashian and Thompson's teams for comment at the time, but did not hear back. Then, as if that wasn't a big enough shock for all of us, Kardashian gave birth to their daughter, True Thompson, on April 12, just a few days after the reports surfaced. Since the allegations broke, we've all been wondering exactly what the state of Kardashian and Thompson's future holds. At first, it appeared that things would never get better for the two, but it appears that their relationship has taken quite the turn recently.
If I were Khloé, I probably would have jetted out of Cleveland the minute I heard those rumors. However, it's been proven time and time again that this Kardashian doesn't back down no matter how tough the situation. In April, during an interview with Ellen DeGeneres, Kim Kardashian confirmed that Khloé has been staying in Cleveland even after the cheating allegations surfaced. According to the beauty mogul, Khloé decided to stay in the city to have some "alone time" with her daughter and "figure out her next steps."
On June 9, Kardashian and Thompson attended a friend's birthday party together, and posted matching Instagram stories to celebrate the special occasion. Even though this might shock some at first, a source confirmed to E! News on June 10 that the two did arrive at the party together, and enjoyed each other's company. After all Kardashian has gone through, I wouldn't be surprised if there was some tension in the air. However, the source revealed that there's "no animosity" between the two, and the party proved that.
"Khloé and Tristan were there together, they were sitting next to each other during dinner and there was no animosity between them," the source told E! News. "Everybody looked happy, normal and like they were having a great time."
I don't know about y'all, but I just don't know what to believe anymore.
I'm not going to tell Khloé how to live her life, though. Whether she's in Cleveland, OH or Los Angeles, CA, I have no doubt she'll be slaying either way. Love you forever, Khlo.