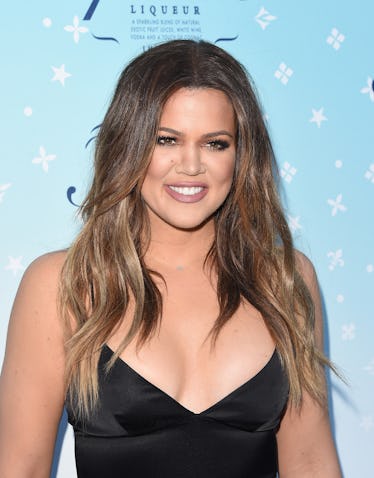 The Kardashian's Latest Christmas Card May Be A Huge Clue Khloé K Is Pregnant
Jason Merritt/TERM/Getty Images Entertainment/Getty Images
I want it. You want it. We all want it. We're dying for the big, official Khloé Kardashian pregnancy announcement. We've been waiting and praying for the reported mom-to-be to let the world know that, yes, she and boyfriend, Tristan Thompson, are actually going to have a baby. Of course, we've been keeping our eye out for anything that looks like confirmation, and this picture of Khloé Kardashian in the Christmas card could be another huge clue that she is definitely pregnant.
UPDATE: On Dec. 20, Khloé Kardashian confirmed that she is expecting a baby with Tristan Thompson in an Instagram post.
EARLIER: If you've been keeping up, then you know the Kardashians have been releasing an epic Christmas card series on Instagram. Each day, a new family member or series of members is revealed wearing a white T-shirt and jeans. As of Dec. 20, we've seen Kim, Kourtney, Kendall, Kris, Kanye, all the babies, and a little sneak peek of Khloé, and boy, does she look suspicious in one particular photo.
On Dec. 19, KoKo popped up as part of a group picture in a long-distance shot. In it, she is very specifically holding brother Rob Kardashian's little girl, Dream, in her lap.
Ya know, exactly where a baby bump might be.
The image is a little far away, and Dream is placed so perfectly over her midsection that it had fans convinced she must be hiding a baby bump. Take a look.
It could be the perfect plan — use a baby to hide your baby bump!
Just when I was ready to throw in my conspiracy theory towel and buy Khloé a baby gift, day 20's photo showed up. And, you guys, there is definitely not a baby bump in day 20.
That's Khloé on the far right. You know, the one in the high-waisted straight leg jeans and semi crop top. Also the one with zero-point-zero baby bump.
I'm not taking this image as proof she's definitely not pregnant, I'm just thinking the whole photo shoot might have gone down way earlier in her pregnancy.
According to People magazine, she and little sister Kylie Jenner are both expecting sometime in February. If that's true, then she is roughly seven months pregnant right now, and must be showing somewhere out there. However, according to Baby Centre, a mother might not start showing until 16 weeks into her pregnancy. Essentially, a baby bump might not even arrive before the fourth month!
If you're doing the math, that means this Christmas photoshoot must have gone down sometime in September or earlier, which doesn't sound too outrageous.
If you take into consideration what it must take to get everyone's schedules aligned, then professionally edit at least 25 photos, and come up with a specific release plan that everyone's PR people are comfortable with... it's totally possible this entire shoot could have gone down way before Khloé was showing.
If you're wondering what Christmas day will look like for Khloé, she revealed her holiday itinerary on her app and website. She wrote,
This Christmas, I'll be celebrating early with Tristan in Cleveland since the Cavs will be on the road. Then, I'll fly back to LA a few days before my family's annual Christmas Eve party. My mom takes full control of Christmas Eve since she's been throwing the party for so long, so I let her do her thing!
On Christmas morning, the whole family is together with the little kids—usually at Kourt's—opening presents and chilling in our pajamas. After that, we're all going to do our own thing the rest of the day. So after I cook breakfast for everyone, I'm doing absolutely nothing and I'm very much looking forward to that, LOL!
Sounds like a happy mom-to-be if you ask me, a non-mom-to-be.
Check out the entire Gen Why series and other videos on Facebook and the Bustle app across Apple TV, Roku, and Amazon Fire TV.