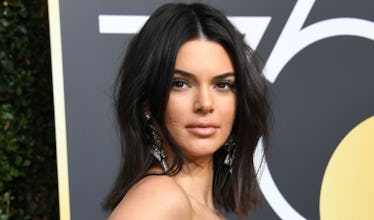 Kendall Jenner Had The Best Clapback For People Shaming Her Golden Globes Acne
Kendall Jenner attended the Golden Globes rocking an all-black dress on Sunday, Jan. 7. She also came rocking some pimples, which really shouldn't matter because everyone gets pimples, but trolls online shamed her for them when she was on the red carpet. Some other fans tweeted their support instead of shame, prompting Jenner to say something about the whole thing. Kendall Jenner's response to her Golden Globes acne is pretty freaking simple: She basically told the people shaming her that she doesn't care what they have to say.
One fan quoted a tweet of Jenner on the Golden Globes red carpet, acne out and all, and said, "Ok but @KendallJenner showing up and strutting her acne while looking like a gorgeous star is what every girl needs to understand." Jenner quoted her tweet and responded, "Never let that sh*t stop you!"
As someone who has had acne since she was 12 and has tried nearly every trick in the book to get rid of it, I can vouch for what Jenner is saying. If you have a breakout the same day something big in your life is happening, you can't let it stop you from doing what you need to do. Just put some concealer on it, take a deep breath, and freaking go 'cause acne isn't worth missing things over.
Jenner had breakouts on both sides of her cheeks at the Golden Globes, but she still looked flawless.
A bad skin day is no reason to miss the Golden Globes, people.
That doesn't mean that you can't decide to stay in if you're not feeling great about your skin, however. Do what makes you feel good! If you have a bad breakout but still want to go out, great. Go for it. If your bad breakout makes you want to stay in, go for it! What matters is how you feel about yourself, not worrying about what people might think or say about your acne.
Jenner attended the Golden Globes with Vogue. She wore all black in solidarity of the Time's Up initiative and posted about the experience. In a tweet following the awards show, Jenner said, "Honored and humbled to be able to attend the Golden Globes with @voguemagazine. my eyes were opened and my heart is full seeing all of the men and women who were a part of this vital change! i too stand with all women #TimesUp."
Time's Up is the women of Hollywood's actionable response to the sexual harassment/assault allegations that have been taking the industry by storm ever since reports of Harvey Weinstein's alleged decades-long harassment and abuse of women came to light in October. Time's Up is a legal fund set up by actresses and activists that will help give financial aid to women who have decided to fight their harassers in court and fight for equal pay in the workplace. The fund will aid women across all industries, not just Hollywood.
The Golden Globes was the night where all the women involved with Time's Up banded together to show a united front, saying that sexual harassment/assault, sexist double standards, and the gender pay gap must come to an end. Nearly all of the women at the Golden Globes wore all black in support of Time's Up, and men who also support the cause wore pins that said "Time's Up." It was an inspiring night filled with impassioned speeches, celebrities calling out sexist double standards on the red carpet, and just an overall celebration of the power of women in Hollywood. And to absolutely no one's surprise at all, I cried a lot while watching it.