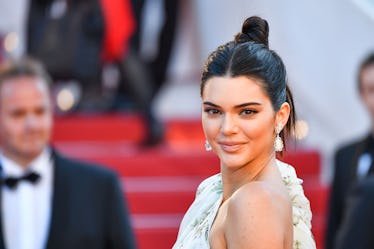 Kendall Jenner's Thirst Trap IG Is Here To Remind You She's Definitely Not Pregnant
ALBERTO PIZZOLI/AFP/Getty Images
Right now, it feels like there isn't a Kardashian-Jenner in the bunch who's not pregnant. But there is! (Supposedly.) Kendall Jenner is literally the only Kardashian-Jenner sister not currently rumored to be pregnant — and she is letting us know. Kendall Jenner's sexy Instagram pic on Oct. 18 is reminding everyone that she is not hiding anything about her body or a hypothetical baby bump. And I mean anything.
Let me tell you, I am a straight woman and secure in my sexuality, but even I saw this photo and went, "well, damn." The pic, captioned with a simple "84º," is a shot of Kendall's booty from the side and behind, wearing a skintight, high-cut, red one-piece swimsuit (which looks more than a little like something out of Baywatch). With one hand, she lifts the side of the swimsuit towards the camera to show off… her nonexistent tan lines? The nonexistent baby-bump? (Again, she is not rumored to be preggers.) Or is she just showing the light bouncing off her own butt? I mean hey, if I had that butt, I'd show it off, too.
Within about five hours of posting the photo, it had more than a million likes. I mean, see for yourself.
That is, indeed, a butt.
It's also, very clearly, a butt attached to a belly that is not pregnant (or at least, doesn't currently have a baby bump — who knows what rumors momager Kris Jenner will unleash upon the world tomorrow. )
And it's literally the only Kardashian-Jenner belly that isn't rumored to be pregnant.
Every single one of Kendall's sisters is currently suspected to have a bun in the oven. The rumors started with youngest sis Kylie Jenner in late September, when rumors started leaking that Kylie was pregnant with boyfriend Travis Scott's baby. Since then, Kylie has been teasing us all with the possibility, hiding her belly in baggy clothes or taking Instagram shots where her belly is juuuuust outside the frame. But yeah, the clues are there, she's definitely/maybe/probably pregnant.
Only a few weeks later, the rumor mill turned to Khloé, who's also rumored to be expecting with her basketball player boyfriend Tristan Thompson. Kourtney Kardashian's ex Scott Disick basically kinda confirmed the rumor to E! News on Oct. 14 when he talked about the baby advice he'd give Khloé. "Everybody's so hands-on that I feel like it will happen within time," he said, "so no real advice in that sense."
And next was Disick's ex, eldest sis Kourtney Kardashian herself, who's suspected to be expecting her fourth child with rumored boyfriend, model Younes Bendjima. Kourtney already has three kids — Mason, Penelope, and Reign — with Disick. No details on this most recent sprog yet, but best estimates say that any baby would be due around April 2018.
And of course, there's Our Lady of the Kardashian, Kim herself, who recently confirmed she's expecting a third child with hubby Kanye West, probably via a surrogate. (OK, so Kim K doesn't technically have said bun in her own oven, but for the purposes of this tally I am counting it, because who are we to judge someone's reproductive choices anyway?) Kim has been pretty open about the major health issues that would make a subsequent pregnancy dangerous and painful for her, and has discussed finding a surrogate, so it's a safe bet that's what's going on.
So, is Kendall reveling in the expectation of being a new auntie four times over? Is she teasing everyone who's waiting for pregnancy confirmation by reminding them what her sisters aren't putting on Instagram? Or is she just — like anyone would — going, "man, my butt looks great today. Let's put it on the internet."
I feel you, Kenny. You do you.