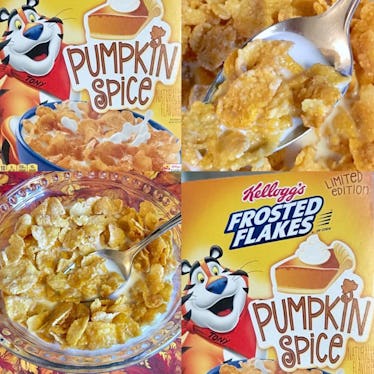 Pumpkin Spice Frosted Flakes Exist & I Guess It's Never Too Early For Fall Flavors
There's no better way to say goodbye to patio season and usher in the changing leaves than with a seasonal PSL in hand. Sweater weather might be months away, but even in the heart of summer, I'll happily admit to being one of those people who could enjoy pumpkin spiced everything and live my best basic life all year long. Why should all my favorite cozy treats be limited to only a few months of the year? Prepare to make your mornings really grrreat in just a few months, because Kellogg's Pumpkin Spice Frosted Flakes exist, and they're reportedly coming to stores way sooner than you would expect.
Let's be real, there's really nothing more festive than starting a chilly autumn morning with a steaming Pumpkin Spiced Latte from Starbucks. #Basic or not, it's the perfect dose of cinnamon, sugar, spice, and everything nice to set the tone for the rest of your day. The only caveat? You have to wait until fall to jump on the PSL wagon. Luckily, another early morning treat is here to satisfy all your fall flavor cravings, because is there ever such a thing as too much pumpkin spice? Absolutely not. PSL lovers, rejoice, because Kellogg's take on Pumpkin Spice Frosted Flakes will be heading to grocery stories as soon as August, according to Delish.
Although I usually have to wait until September to enjoy fall in a mug, the timing of the new cereal flavor will help me ease out of summer and into autumn with minimal withdrawals. This fall is basically going to be all about pumpkin spice everything, and I'm not complaining.
So, what do these special Frosted Flakes taste like? Apparently, really "grrreat," as Tony the Tiger would say. Instagram blogger Junk Food Mom tested out a box and admitted that while she's a huge fan of Frosted Flakes, she's never been partial to that iconic pumpkin spice flavor. Despite that, she gave this fall-inspired breakfast staple a big thumbs up.
"First of all, Frosted Flakes are one of my favorite cereals. Second, I'm Anti Becky.. Anti Pumpkin Spice," she captioned an Instagram post of the new cereal. "So how did this work out for me? It's fantastic! Same sweet delicious Frosted Flakes with a touch of pumpkin spice that's not overbearing but there in every spoonful."
In fact, she was such a big fan of the game-changing treat that she's considering changing her Instagram handle to "beckyfoodmom." Basic Becky, and proud.
She admitted, "These have rekindled my interest in pumpkin flavored Everything. Might change my name to beckyfoodmom." While she said she doesn't have any information on when the Pumpkin Spice Frosted Flakes will be released, the sample box says "limited edition," so it sounds like we should heed her words of advice.
"When it does hit shelves - stock up. Pumpkin Spice Frosted Flakes are [100%]," she concluded her post. "Thanks guys!"
So how does this stack up to General Mills' Pumpkin Spice Cheerios? While another Instagram user argued that the Cheerios version is better because it has a stronger PS flavor, he did award it a 10/10 for the resulting spiced cereal milk (the best part, anyway).
It isn't even July yet, but it sounds like retailers are already coming for my PSL-loving heart. While 2017 gifted us gems like Pumpkin Spice deodorant (yup, that was actually a thing), the most basic fall candle via Etsy, and even a PSL spray to make all your food taste like autumn, I have high hopes for this year's creations. September might be months away, but I'm more than ready to live my best Basic Becky life.