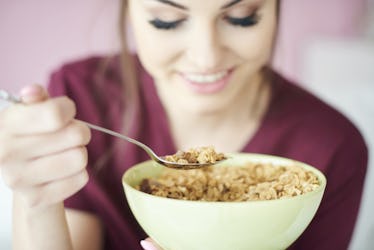 7 Best Halloween Cereals That Will Bring You Right Back To Your Childhood
Mornings are completely out of whack without your go-to bowl of cereal, and when the spooky season rolls around, you're probably pouring yourself bowls upon bowls of your favorite Halloween-inspired picks. Yes, some of us wait all year for this time simply because of the cereal we can have. The best Halloween cereals have made their way to the shelves and sent our tastebuds on a first class trip back to our childhood.
Those cereals were everything while we were growing up. They really made us know that Halloween wasn't too far away and we'd soon be scarfing down even more sweet, chewy, or chocolatey treats. Sharing is usually caring, but because these cereals seemingly have an expiration date, it's OK to be a little stingy. Nothing beats seeing these cereals pop up one by one in aisles of the grocery stores.
Your mornings for the next few weeks just found some crunchy, sweet goodness. And since us adults most likely won't be going trick or treating, our bowls of Halloween cereal swap out for that. So, if you haven't got the memo on which Halloween cereals are haunting a grocer near you, grab a box of one of these... if you dare.