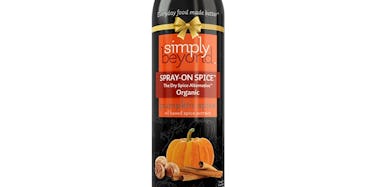 Pumpkin Spice Spray Exists So You Can Make Anything You Want Taste Like A PSL
Simply Beyond Foods
If you've made it your mission to taste all things pumpkin spice-flavored, you might want to sit down. A new kind of pumpkin spice product is making it possible to turn virtually everything into a PSL-inspired treat. Made by Simply Beyond Foods, Pumpkin Spice Spray-On Spice is literally a handheld PSL spray, meaning you can use it to spritz a little fall spirit onto all your meals should you be taking your pumpkin tasting mission that seriously. Beyond where to buy pumpkin spice spray, keep reading to discover everything about it... because why not?
The genius product — which is organic and comes in an eco-friendly non-aerosol can — retails for $10.99 on Simply Beyond Foods' website. Referred to as a "dry spice alternative" on its seasonal black and orange label, Pumpkin Spice Spray-On Spice is crafted by combining canola oil with "pumpkin spice essential oils" (cinnamon, ginger, nutmeg, and allspice).
Per a close-up shot of the label's back, the sprayable pumpkin spice has three handy nozzle pressures — drip, stream, and spray — in case you want to slowly develop PSL flavor rather than douse whatever's on your plate. But who could really blame you if you opt for the latter? Not me.
In addition to illustrations showing how to change the nozzle pressure, the product label provides a lot more useful information that just might convince pumpkin spice spray skeptics to give it a try. After all, "one spray before cooking, perhaps a second before you serve," the packaging reads, "will unleash that full flavor of spices that will take your meals Simply Beyond." It's sort of poetic, and I can't knock it. What's more, they offer some ways anyone can introduce sprayable spices into their cooking.
Spice up your baking Enhance your savory dishes Season your nuts & seeds
That last one is GOLD. Imagine soaking a batch of pepitas with, like, 10 sprays of pumpkin spice. (I'm drooling at the thought of it, to be honest.)
Though many snack brands have hopped aboard the collective pumpkin-obsessed train — e.g. Pumpkin Spice Oreos and Pumpkin Pie Kit Kats — what's special about Simply Beyond Foods' product is that it enables you to transform anything into a unique pumpkin spice creation. Sure, you could spend hours scrolling through Pinterest until you happen upon a pumpkin spice recipe that piques your interest. But with a legit spray in your spice cabinet, you can easily add a hint of the seasonal flavor to, say, your favorite chicken dish or quick snack. It's a total time-saver.
If you're thinking, "That's great, but I want to make my kitchen a pumpkin spice heaven," well, you might want to consider investing in a Google Home for two glorious, fall-inspired reasons: You can now upgrade the speaker base to a festive orange color (pictured below) and Google Assistant will read you all your soon-to-be-pumpkin-spice recipes so you can focus your energy what matters (seasoning, of course!).
Here's a rundown of how it works. Say, for example, you find a delicious-looking recipe online. If you're using the Google App or your phone's web browser, you can send the recipe straight to your Google Home, which will start reading the instructions as soon as you say, "Okay Google, start recipe." Pretty cool, huh? Plus, the orange hue will obviously blend in beautifully next to your autumnal décor and real-life PSL.
And if you're totally over the pumpkin spice craze, you'll be pleased to know that Simply Beyond Foods has two non-pumpkin seasonal flavors: Gingerbread and Cinnamon. You can purchase them individually for $10.99 on the Simply Beyond Foods website or get all three in a bundle for $29.
Check out the entire Gen Why series and other videos on Facebook and the Bustle app across Apple TV, Roku, and Amazon Fire TV.