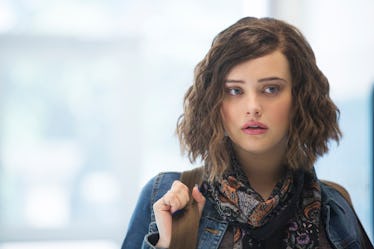 Katherine Langford Has A Message For '13 Reasons Why' Fans & I Miss Hannah Already
Beth Dubber/Netflix
13 Reasons Why may be returning for a third season in 2019, but will it really be the same without Hannah Baker? In late May, Katherine Langford announced that 13 Reasons Why Season 2 would be her last, and now, the actress is opening up about her decision to leave the Netflix series. No matter how you feel about Hannah's ghostly appearance in Season 2, Katherine Langford's quotes about 13 Reasons Why will make you miss her character so, so much.
On Tuesday night, Langford spoke to E! News about letting Hannah go, and her message was directed specifically towards the many fans who connect so deeply with 13 Reasons Why. Langford said that the long Instagram post about her departure was meant to acknowledge how much this character has meant to her both personally and professionally — 13 Reasons Why was her first acting gig — and to thank fans for going on this "journey" with her:
I've really realized the significance of that role and the story we were able to tell and how it resonated, not just on an entertainment level, but also how it resonated really intimately with people and deeply people, and so I think it was nice for me to be able to share the finality of Hannah's journey and more so my journey in the series.
Awww. Katherine, do you really have to go?
Even though Langford won't be returning to the 13 Reasons Why set, she insisted that the show and her character will always be an important part of her life. "Hannah's story is always something I'm going to carry with me," she said. The star also promised that she will always make herself available to fans via social media, saying, "If people need to reach out, I'm always going to be there in a sense, even if it's small like on social media." So, does that mean we can get a group chat going with Dylan Minnette or...?
Despite Clay (Minnette) officially "letting Hannah go" in the Season 2 finale, her story will still affect the series in a variety of important ways. Langford recently told Entertainment Weekly that Hannah's "presence and the importance of her and her story will always matter and will always be there" no matter whether Hannah is actually in the show. As fans have seen, Hannah's death and its aftermath have forever changed Liberty High, so even though the students are starting to put her behind them and go on with their own lives, she will always have an impact on their actions. Yes, Hannah Baker may be gone, but she will live on in spirit as long as 13 Reasons Why is on the air.
So, where does that leave 13 Reasons Why in Season 3 and beyond? In Season 2, the non-Hannah related drama among Liberty High's students began to dominate the story, and it's safe to say that the trend will continue in future seasons. And after all those cliffhangers, it's not as if the Netflix series is lacking material for Season 3.
13 Reasons Why Season 3 is rumored to begin shooting in mid-June, so hopefully, Langford doesn't have FOMO seeing all her pals back together on social media. Luckily, the star has plenty of projects in the pipeline to keep her busy. Langford is starring in the upcoming movie Spontaneous alongside Charlie Plummer and Hayley Law (Valerie on Riverdale), and she told The Hollywood Reporter that she's currently working on other projects:
There's a lot more coming up, and a lot that I'm just taking a second to work on in the next few months before kind of letting anything else out. What I meant about the cliche part was, like, there is genuinely a lot of stuff that I want to do, and that I'm excited to share with people. And I can't tell you when it's going to be out, but I'm excited for it.
I'll watch Langford in literally anything, so I can't wait to see what she has up her sleeve next.