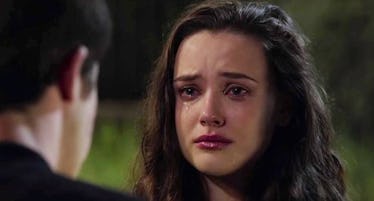 Hannah Baker's '13 Reasons Why' Season 3 Update Will Break Your Heart All Over Again
Netflix
13 Reasons Why may be returning without one of its central characters. While the first season closely followed the story of Hannah Baker, played by Katherine Langford, the second season was all about moving on. So it's fitting that with the Netflix drama in talks to return for a third installment, fans are wondering, will Katherine Langford be in 13 Reasons Why Season 3? Now the actress has officially confirmed that she will not be returning if the show comes back, and it's so devastating.
Langford first shared the news that she would be saying goodbye to the character in an Instagram post shared on Friday, May 26. Alongside a still from the series which showed a blackboard covered in hand-written messages to Hannah, she began, "'Hannah...I love you...and I let you go' Those are the words I was able to say six months ago, and now can finally share with you."
She continued, "As most of you know @13reasonswhy was my first ever job and I am so grateful to have had the opportunity to tell Hannah's story so fully in season 1, and to be asked back for a season 2." After thanking producers and the film studio, she then turned to her fans to express gratitude for all of their support.
"And to all of you here - Thank you for filling my life with love and light," she concluded. "This show will always be a special part of my life, and regardless of whether Hannah is there or not, I know that I will continue to strive to do work that is meaningful and has a positive impact - whether that be in film, music, or any other form of art. There is a lot coming up this next year, and I can't wait to share it with you."
While the news is certainly heartbreaking for fans who've followed along on Hannah Baker's journey, I guess it's not that surprising. Hannah Baker's death was central to the storyline in Season 1, but she made far fewer appearances in Season 2. She appeared in a few flashback scenes and even as a ghost-like figure in the season finale, fittingly titled "Bye," where she seemed to say goodbye to Clay before crossing over into the afterlife.
In an interview with Entertainment Weekly, Langford opened up about her own process of moving on from the character, and her feelings are so relatable.
"For me, letting Hannah go was in season 1; season 2 was for Clay to let her go. It was being able to assist Clay on that journey as Hannah and let Clay have his moment to let Hannah go," she told the publication.
And while many of us probably can't even imagine 13 Reasons Why without Hannah, she said that she felt like the show had done Hannah Baker's story justice over the past two seasons.
She explained, "For me, we told Hannah's story so fully in season 1. And in a way, doing that scene in episode 13 [of season 1], I've so often referred to it as it was the hardest scene because it's the scene where I had to let her go."
"I think coming back this season was challenging because it was playing her but not really her. The challenge was when you tell a character's story so fully, and then you have to come back as a version of her that's filtered through other people's eyes; that required a lot of trust," Langford continued.
The 22-year-old said, "I guess if I could put Hannah's life into season 1 and then say it was kind of like being in purgatory for season 2, and then being able to officially say goodbye to her. It definitely felt like time."
OK, Clay might be ready to let Hannah go, but am I? The announcement is heartbreaking, but I am pretty curious to see what the producers do to keep the story going without her in season 3. At least there's a silver lining to this whole situation. If you're not ready to say goodbye to Hannah just yet, you can always head over to Netflix and re-binge Season 1 and 2 over the weekend.