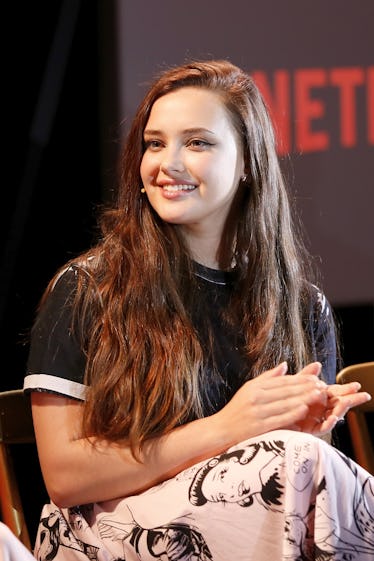 Here's Everything Katherine Langford Is Up To Following '13 Reasons Why'
Ernesto S. Ruscio/Getty Images Entertainment/Getty Images
Katherine Langford's breakout role is undoubtedly Hannah Baker in Netflix's hit drama 13 Reasons Why. The show's second season just started streaming this past week and if you're a fan of the series, you've probably binged it in its entirety. Now that there are rumblings that Hannah's story has been closed for good, viewers might be wondering what Katherine Langford is doing after 13 Reasons Why. The Australian actress became a household name last year and her star continues to rise.
"It was such a wonderful opportunity to tell her story so fully in season one, and I'm really glad to have been asked back and to have been a part of a second season. I don't know if I can comment on the third season. I don't know if there's going to be a third season. This could have been Hannah's last chapter, but I guess we'll have to wait and officially see," Langford told The Hollywood Reporter about her potential future on 13 Reasons.
The Golden Globe-nominated performer was a relative unknown before landing the part of Hannah — she appeared in the 2016 shorts Daughter and Imperfect Quadrant. So, whether or not she'll continue working on the show that helped launch her career, what's next for Katherine Langford?
This year Katherine appeared in March's Love, Simon and starred in The Misguided. She also worked on an upcoming film called Spontaneous, alongside Charlie Plummer and Riverdale's Hayley Law. Additionally, Langford hinted to THR that there's more on the horizon that she's hoping to open up about in the future:
But there's a lot more coming up, and a lot that I'm just taking a second to work on in the next few months before kind of letting anything else out. What I meant about the cliche part was, like, there is genuinely a lot of stuff that I want to do, and that I'm excited to share with people. And I can't tell you when it's going to be out, but I'm excited for it.
Could she be talking about turning her focus to music? Langford revealed to W in March that she might be switching gears. Katherine is a self-taught piano player and has dabbled in songwriting in the past.
"In the next few months for me I'm taking just a second to hone my skills and to write some music because fundamentally that's where I come from. I want to take risks and challenges, and wait for a piece that inspires me like these two have," she explained.
Katherine isn't the only 13 Reasons Why cast member to take on new exciting projects outside of the show. Ross Butler, who plays Zach Dempsey, is set to star in the 2019's Shazam! for DC. Christian Navarro aka Tony Padilla acts alongside Melissa McCarthy in the upcoming Can You Ever Forgive Me? and Alisha Boe (Jessica Davis) is set to appear in Yes, God, Yes with fellow Netflix-er, Stranger Things' Natalia Dyer.
"I had given up drama school to go and test for them, so I was back home in Perth with no job, trying to figure out what I was going to do with my year," Langford has explained of how the 13 Reasons Why gig, her first show ever, came to be. "That's when the audition came through. I put down a tape, one thing led to another, and they cast me."
It's hard to imagine anyone else playing Hannah, although Langford auditioned for the role of Jessica as well. Selena Gomez, an executive producer on 13 Reasons, was originally in the running for Hannah.
"Should we get a Season 3, the loss of Hannah will continue to be the inciting traumatic event for this group of kids and parents. It will always be part of the story," showrunner Brian Yorkey told EW regarding moving forward with Langford's character. "But I don't see a tremendous continued presence for Hannah because I think we needed her to finish telling everyone else's side of her story and we needed her so that Clay could get to a point of saying, 'I love you and I let you go.' If the story does continue, and certainly there is lots more to know about a lot of these characters, then the spotlight focus on Hannah Baker is probably done."
Even if Katherine Langford's time at 13 Reasons Why ends up being up, fans can look forward to seeing her shine elsewhere.