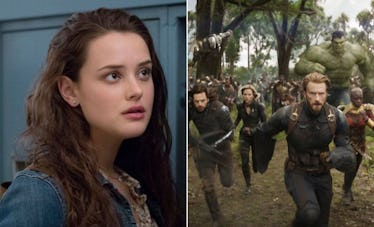 One Of Your Favorite Netflix Stars Just Joined The 'Avengers 4' Cast
Netflix, Marvel
Katherine Langford is officially done with 13 Reasons Why, and now she just landed a part of one of next year's biggest movies. Fresh off of her announcement that she will not return for another season of 13 Reasons Why, Katherine Langford was cast in Avengers 4, according to a report from TheWrap.
In keeping with Marvel's trademark secrecy, Katherine Langford's role in the upcoming Avengers movie has not yet been revealed. Reportedly, Langford has already filmed her scenes for the movie.
With the wide breadth of the Marvel Cinematic Universe and the lack of confirmed details about the Avengers: Infinity War follow-up, it is close to impossible to theorize which character Katherine Langford might be playing. The primary fan theory about Avengers 4 right now is that it will likely be a time travel movie in which the original Avengers travel back in time to prevent Thanos from obtaining the six Infinity Stones and delivering his fateful, population-decimating snap. If that proves to be the case, then Langford's character could be someone from one of the heroes' pasts.
Avengers 4 will be Katherine Langford's second major movie since her breakout role in Netflix's teen dramedy series 13 Reasons Why. Earlier this year, Langford starred in the hit rom-com Love, Simon.
Katherine Langford rose to fame after starring as Hannah Baker in the first season of 13 Reasons Why. Since Hannah's suicide was central to the storyline of the show's debut season, fans wondered whether Langford would return for Season 2 or not. Langford actually did reprise her role as Hannah in the second season, playing a ghostly vision that appears only to Clay Jensen, but after Clay finally came to terms with Hannah's death, her ghost vanished.
Shortly after Season 2 of 13 Reasons Why aired this past May, Langford confirmed that Hannah Baker would not be back for Season 3 of the show, which is set to be released some time in 2019.
But even though Katherine Langford is officially off 13 Reasons Why, she will still be popping up on your Netflix queue very soon. A couple months ago, Netflix announced that Langford would star in another one of its original series: an upcoming fantasy drama called Cursed. Based on Arthurian legends, Cursed will star Langford as a young woman named Nimue, who is destined to become the powerful Lady of the Lake and travels with the swordsman Arthur to find the wizard Merlin. The series is set to premiere on Netflix in 2019.
For superhero fans, though, Katherine Langford's mysterious role in Avengers 4 is the most exciting and puzzling development in her career. The upcoming movie's title has not yet even been confirmed. Currently, Marvel fans are tossing around guesses like Annihilation, End Game, and Disassembled as possibilities for the new movie's title, but we won't know for sure until Marvel makes an announcement. Fans also think that this movie will see the death of Captain America, but that is also just a theory right now.
Avengers 4 will hit theaters on May 3, 2019.