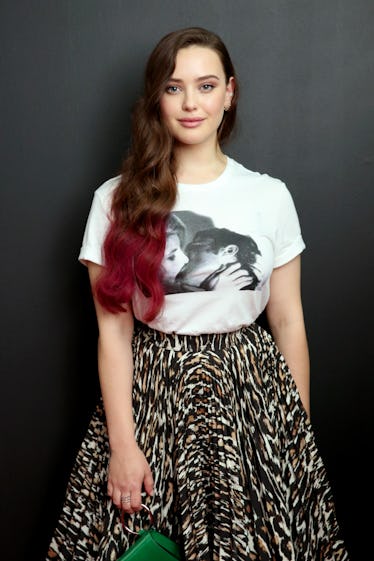 Katherine Langford Is Moving From '13 Reasons Why' To A New, Medieval-Themed Netflix Show
Monica Schipper/Getty Images Entertainment/Getty Images
Katherine Langford confirmed her official exit from Netflix's 13 Reasons Why in May and it turns out she's not going very far for her next big project. The Australian actress will stay close to home at the streaming service that made her a household name. Katherine Langford will star in Netflix's Cursed, a reimagining of the King Arthur legend. According to Deadline, Langford will play the lead role of Nimue, "a teenage heroine with a mysterious gift who is destined to become the powerful (and tragic) Lady of the Lake."
Cursed comes from mind of comic book writer and illustrator Frank Miller, who created famed graphic novels such as Sin City and Ronin. Miller is teaming with producer and writer Tom Wheeler, who will serve as the series' showrunner. The pair will additionally be releasing a YA book of the same name as a companion to the Netflix show.
"I have always been entranced by the mythological Arthur story—and by Nimue, in particular," Frank Miller said in a statement from Simon & Schuster regarding Cursed's accompanying novel. "It can be interpreted in any number of ways—from a delightful children's story, as in The Sword in the Stone, to a terrifying interpretation like Excalibur. This tale represents an incredible opportunity and an exciting challenge for me as an illustrator, and I'm excited to collaborate on the story with Thomas Wheeler."
Langford fans have been wondering what her next move would be since her 13 Reasons Why departure was announced. She's remained mostly mum about upcoming ventures, but she did take to Instagram on Sept. 1 to tease exciting news ahead.
"I've been working on some things that are very close to my heart, and knowing that they're for you makes me even more excited to create and share them.Sit tight!" a portion of her caption read.
Katherine rose to stardom thanks to her breakout role of Hannah Baker in 13 Reasons Why, which premiered in 2017. She earned a Golden Globe nomination for her performance and was featured on the show's second season. Season 1 focused on the events leading up to her character's tragic suicide, while Season 2 explored its aftermath. The show's third season will apparently move on from Hannah in some ways, although she won't be forgotten. She explained to EW:
I guess if I could put Hannah's life into season 1 and then say it was kind of like being in purgatory for season 2, and then being able to officially say goodbye to her. It definitely felt like time. For me, letting Hannah go was in season 1; season 2 was for Clay to let her go. It was being able to assist Clay on that journey as Hannah and let Clay have his moment to let Hannah go.
"Hannah's story, it's always going to be part of my life and a part of other people's lives," Langford told E! News.
In addition to her first big acting gig in 13 Reasons Why, Hannah starred in both Love, Simon and Spontaneous this year. Cursed is expected to debut on Netflix in 2019.