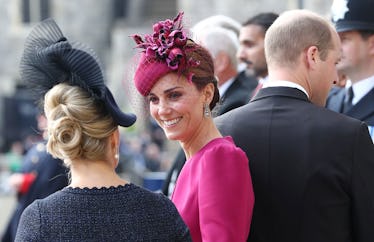 You Probably Missed Kate Middleton's Low-Key Wardrobe Malfunction At Princess Eugenie's Wedding
WPA Pool/Getty Images Entertainment/Getty Images
With an event as big as a royal wedding, there's practically no chance everything will go off without a hitch. Granted, Princess Eugenie's big day was beautiful, but there were still a few hiccups, as with any large party. Kate Middleton's wardrobe malfunction at Eugenie's wedding was probably the most notable uh-oh of the day, but TBH, it was so small and happened so fast, you probably didn't even see it. If you're someone who ~lives for drama~ like me, though, I'll give you all the deets on what went down, but spoiler alert: Middleton kept her cool as always.
While always super stylish, Middleton tends to keep her fashion choices fairly understated and low-key; she always looks gorgeous, but she definitely plays things on the safer side. In honor of Princess Eugenie's wedding and the bride's vibrant fashion sense, though, she decided to opt for something a little trendier than her traditionally subdued picks. Middleton wore a bright raspberry dress designed by Alexander McQueen, the brand responsible for her 2011 wedding gown. She paired it with a matching fascinator complete with a netted veil, and all together, it's safe to say she was really serving lewks.
Seriously, this has to be one of Middleton's best fits to date. The color really suits her!
And that on-point pink fascinator definitely sealed the deal:
I know what you're thinking: "OK, but she looks perfect, so what wardrobe malfunction are you talking about?" Let me set the scene, thanks. As someone who usually opts for midi-length dresses, this slightly-above-knee hemline was a bit of a change for Middleton, and the a-line cut made it even more of a statement.
Kate was no doubt feeling her new look — that is, until a bunch of photographers caught her in the middle of a major gust of wind:
As Cosmopolitan pointed out, this little uh-oh moment could've been really bad, but leave it to Middleton to handle it and brush it off like nothing at all.
Um, excuse me, Prince William, but can you please turn around and help your wife before the queen looks up and sees this?
Always calm, cool, and collected, Middleton handled the freak gust of wind like a pro, and kept her Marilyn Monroe moment as short and PG as possible:
Crisis averted! I guess since Middleton never wears this silhouette, no one felt the need to tell her about the various royal hacks used to keep floaty skirts from flying up. According to the queen's couturier, Stewart Parvin, royals often have tiny weights sewn into the hems of their skirts to make sure windy days won't be a problem, per The Daily Mail.
Post-gust, Middleton went on to enjoy the wedding with Prince William at her side, and they continued to be the couple goals us single gals can only dream about:
No, really, they're the cutest:
And needless to say, Middleton made sure to have at least one arm at her side for the rest of the day's outdoor excursions, just in case any more wind blew her way:
The only benefit to this almost-wardrobe malfunction? It had everyone looking at Middleton's velvet heels, which are super on trend right now. Not even a huge gust of wind can offset this royal's stunning style!