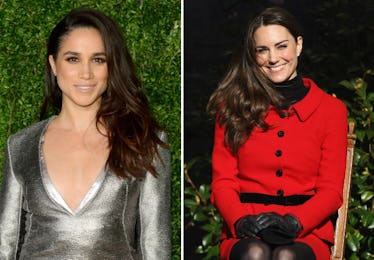 The Difference Between Meghan Markle & Kate Middleton's Pre-Royal Styles Is So Major
Andrew Toth/Stringer/Getty Images Entertainment/Getty Images & Jeff J Mitchell/Staff/Getty Images News/Getty Images
Meghan Markle and Kate Middleton are probably the most famous sisters-in-law in the entire world. They've have both married literal royalty and have thus experienced life-changes that few others can understand. One thing that's a bit different between them, however, is their fashion. Meghan Markle and Kate Middleton's styles before they married their princes were so different.
There's no shortage of rules to follow if you're a British royal, and the queen specifically has a roster of royal fashion rules to which everyone must adhere. The list includes a range of things from widespread societal customs to smaller personal style preferences that the queen likes to see. For example, women must wear hats or fascinators to formal daytime events as a general rule for society, but royals are held to a particularly high standard for that. On the other hand, female members of the royal family don't wear wedge heels simply because the queen doesn't like them (at least, they don't wear them in front of her).
Both Middleton and Markle, as wives of princes, and duchesses themselves, are now adept at following the queen's rules. What about before they were royal, though? Middleton was born and raised in England to a fairly posh and proper family, while Markle came of age in Hollywood, surrounded by celebrities. Take a look at the differences in how they each used to dress.
Middleton's been wearing fascinators (small hats) since at least 2006! To be fair, she's known Prince William since before then, and attended many engagements with him. But still, Middleton knows her way around a headpiece. She chose this feather fascinator for Laura Parker Bowles' (Camilla Parker Bowles' daughter) wedding.
Middleton attended England's annual National Hunt Festival in Cheltenham in March 2007. Middleton's style was decidedly conservative, even back then, as she was very buttoned up (literally).
Markle, in contrst, dressed a bit more casually. In 2009, at a pre-Emmy gifting event in Beverly Hills, California, Markle wore flat sandals and a rather low-cut blouse. It's a cute outfit but I don't think Queen Elizabeth would approve of it.
In August of 2010, Markle attended another Hollwood gifting event in another remarkably casual outfit. It's also noteworthy that the actress used to get all that free swag, because the royal family also has rules about accepting gifts.
As a Hollywood actress, Markle has made many red carpet appearances. This look from February 2012 is modest enough up top but the queen most definitely prefers longer hemlines.
A very telling moment in the difference between Middleton and Markle's fashion choices is that when Middleton announced her engagement to Prince William, she wore a pair of nude tights. "You never see a royal without their nude stockings," says royal expert Victoria Arbiter to INSIDER. Arbirter says that wearing tights is "the only hard, steadfast rule in terms of what the Queen requires."
Markle, on the other hand, chose to rebel and not wear stockings during her engagement announcement. Notice, though, that she lengthened her dress hemline quite a bit from her previous outfits.
Despite their differing style choices before they were married, both women now follow (most) of the rules that their grandmother-in-law (the queen) sets out. The women are duchesses, after all.
Royal AF.