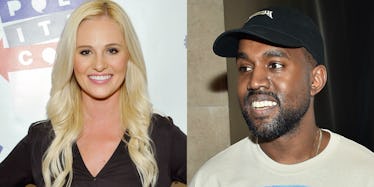 Tomi Lahren & Kanye West Just Had The Most Surprising Twitter Interaction
John Sciulli/Getty Images Entertainment/Getty Images/Dimitrios Kambouris/Getty Images Entertainment/Getty Images
Kanye West and Tomi Lahren are two people very familiar with seeing their names in the news headlines of the day. Ever since West reappeared on Twitter, he's been the topic of much public conversation. He hasn't been shy about sharing views — like his admiration of President Donald Trump — and the response to his tweets has been just as vocal. Lahren recently weighed in on West's possible motivations, and now West has replied to her response. Kanye West's tweet about Tomi Lahren sparked a surprising interaction between the two.
If you've been online at all in the past few weeks, then you know West has been busy on his newly active Twitter account. He was at it again on Monday, May 7, when he tweeted a screenshot of what looks to be an apparent Google search history. Lahren's name shows up fourth in a list of nine names. West didn't caption the screenshot or explain anything further after posting it to his Twitter account on Monday morning.
Almost immediately after West posted the list of names, Lahren quote-tweeted it, and she wrote, "Well Jay-Z did say 'Google me baby.'" With an almost context-free tweet of West's Google search history and a quoted JAY-Z lyric, this entire Twitter interaction could be filed under: total head-scratcher.
Lahren's reply might not immediately make sense to you, but she's likely quoting the 2016 Pusha T song, "Drug Dealers Anonymous." Per Business Insider, JAY-Z raps a lyric that goes, "Google me baby, you crazy," and the end of the song includes a recording of Lahren criticizing Beyoncé's Black Panther reference in her 2016 Super Bowl performance by saying, "Your husband was a drug dealer. For 14 years, he sold crack cocaine."
Many people on Twitter were surprised to see Lahren interact with West after she called him a "loose cannon" on last week's edition of her web series, Final Thoughts. After West came out in support of Trump and subsequently said on TMZ that slavery "sounds like a choice," Lahren warned against conservatives "attaching" themselves to the rapper and his political views. She expressed her reasons why on her show when she said,
No Kanye, slavery was not a choice. That's absurd. I'm sorry, but is that really the kind of messenger we want for the movement? Maybe I'm wrong, but I think Kanye's change of heart has little to do with Trump, politics, or free thought — and a heck of a lot more to do with Kanye promoting Kanye — as usual. This is a man who will do and say anything to be the center of attention.
She seemed to all but push West out of any political conversations at all. That's why Lahren's retweet of West's tweet raised a few eyebrows of those who have been following along with her recent push to disavow West's voice in the conservatives' camp.
West hasn't replied to Lahren's retweet at the time of publication, but he did tweet on Monday afternoon that he is "hyper focused on the now."
West also hasn't further explained the list of names in his tweet, but most of the names have some voice in today's political arena. Lahren, of course, is a conservative mouthpiece known for stirring up controversy, like when she vulgarly insulted Rep. Joe Kennedy III (D-MA) following his Democratic response to the President Donald Trump's State of the Union address. (Lahren later tweeted an apology.)
Other names include Sen. Kamala Harris (D-CA). In November 2016, Harris became the first black politician to represent California and the second black woman ever elected to the Senate when she won the vote. Tamika Mallory, Linda Sarsour, and Carmen Perez — also in West's Google search history — are all co-chairs for the Women's March, which held its second annual march in January 2018. This year's focus of the Women's March was "Power to the Polls," which hopes to increase voter registration and greater turnout for the 2018 midterm elections. The three women have been the center of much debate for both the Women's March itself as well as their relationships with controversial figures and to controversial topics.
To round out the rest of West's search history, Angela Rye is a liberal Democratic political commentator on CNN and NPR , Amanda Seales is a comedian and actress on HBO's Insecure, and Eboni Williams is a television personality known for her appearances on Fox News. The only man included on the list was Christopher Hitchens, who was an author, journalist, and literary and social critic until his death in 2011.
Again, West provided very little context for his tweet with the list of names — though most of them have partisan politics as an identifier in common — so do with it what you would any political advice coming from the rapper. Lahren decided to retweet it, but whether or not that means she's cool with West's political opinions is still unknown.