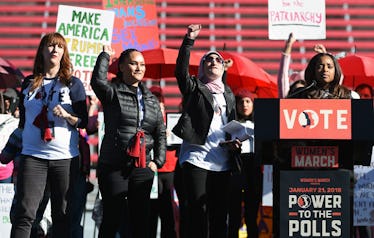 Millions Of People Turned Out For The Women's March This Year, & It's A Big Deal
Ethan Miller/Getty Images News/Getty Images
The weekend of Jan. 20th, 2018 marked the one-year anniversary of the largest U.S. demonstration in history. On Jan. 21, 2017, millions of people stormed capitals and town squares across the country and globe in protest, just one day after the inauguration of President Donald Trump. And there's an indication that the resistance is still going strong one year later, judging by how big the 2018 Women's Marches were.
This year's events took place over Saturday, Jan. 20 and Sunday, Jan. 21 in cities nationwide and around the world. According to a statement by March On, a new women-led political organization that blossomed out of the first Women's March, over 1.5 million people participated in 486 marches and rallies this year. And other estimates put those numbers even higher.
This year had a number of events put on by different groups, many of them by March On, the Women's March, or their affiliates. The Women's March's official "Power To The Polls" rally took place in Las Vegas, Nevada on Sunday, Jan. 21. The location was chosen to honor the mass shooting that took place in October, as well as highlight the political importance of states like Nevada, which are crucial to the upcoming midterm elections in November. The rally kicked off a 10-state tour targeting swing states aimed at voter registration.
This year's march was all about political power.
The theme for the Las Vegas rally was to harness the activist energy that surfaced in 2017 to produce political results; specifically, to get more women voting, and more women into office. Nevada is one of the make-or-break it states for Democrats to flip the Senate in 2018.
"This weekend was proof that the movement is not only strong, but picking up momentum," March On Executive Director Vanessa Wruble said in the organization's statement released Tuesday. "We are ready to take that momentum and focus it like a laser at the ballot box."
The Women's March, for their part, has a goal of getting one million people registered to vote before the upcoming midterms.
The crowd this year was impressive.
Researchers, according to Vox, have actually put this year's estimated turnout higher than March On. They estimate between 1.6 million and 2.5 million people showed up at events in the U.S. alone this weekend. (There were at least 200 events scheduled around the world, too.)
The 2018 showing wasn't as robust as in 2017, when the first Women's March garnered an estimated 4 million attendees in the U.S. alone, at 653 reported events in cities and towns nationwide. Per the official Women's March website, there were 673 sister marches in 2017, with nearly 5 million in attendance worldwide — including from all seven continents (yes, even Antarctica). Whatever the number, it was reportedly the largest mass demonstration in U.S. history. And, in a point that that the president and his team contested, the 2017 Women's March crowd in Washington D.C. was three times the size of Trump's inauguration at the same National Mall just one day before. (Trump, meanwhile, has continued to fixate on the size of his crowds for months and in seemingly inappropriate venues — including while visiting an area devastated by hurricanes.)
But there is a larger overall trend that's taking place, Vox points out. In the roughly 11 months between the first Women's March and the end of 2017, researchers tracked some 8,700 marches, demonstrations, and rallies across the U.S., 74 percent of which were specifically protesting Trump, his views or his policies. In total, somewhere between 6 million and 9 million Americans showed up for those events.
Speaking of numbers...
Where last year's march was about coming together and standing up, this year's event was all about converting energy into electoral wins. And the political push seems to be capturing a trend.
According to TIME, There's a record number of women running for office in 2018. In the last year since Trump's inauguration, some 26,000 women reportedly contacted Emily's List, a political organization that works to get women into office, expressing interesting in launching campaigns. This year, we're expected to see a 350 percent increase over 2016 in the number of Democratic women challenging House incumbents, overwhelming the number of Republican women running by a ratio of four to one. In the Senate, that ratio is two to one. There are at least 79 women eyeing runs for governor, plus countless more for local offices nationwide.
Importantly, this trend includes women of color, too, who have been traditionally underrepresented in leadership roles, especially at the U.S. government level. According to the American Association of University Women (my former employer), the 2016 Congress included only 5 percent women of color. As of Jan. 24, there are 410 black women running for office this year, according to Black Women in Politics database. Of those, 97 are for federal seats.
The tally thus far, per March On, only includes 60 marches, so the final count is bound to be higher.