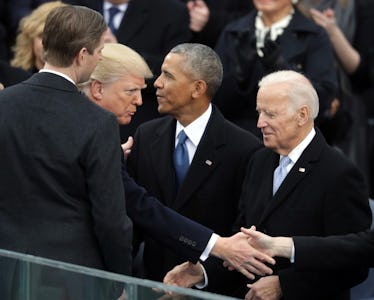 Joe Biden's History With Donald Trump Suggests The 2020 Race Could Get Ugly
Chip Somodevilla/Getty Images News/Getty Images
It's no secret that Vice President Joe Biden isn't a fan of President Donald Trump. Since Trump claimed the presidency in 2016, Biden has criticized the president multiple times, taking aim at his comments and strongly rebuking some of his policies. If you somehow missed it or maybe just want a refresher, let's take a look at a few of Joe Biden's quotes about Trump. They might convince you that these two will never be cordial.
It's a shame, too, because Biden appears to have much friendlier relationships with other presidents, whether they shared a political party or no. He's laughed with President Jimmy Carter, shared moments with President George H.W. Bush and developed a full-blown bromance with President Barack Obama. I mean, he and Obama are seemingly so cool that they tend to grab lunch together, trade jokes with each other, and spread warm words and praise for each other.
It's nothing like the relationship (or lack thereof) that he has with Trump. Things have gotten so heated between these two at times that Biden has appeared to be ready to go to blows. And it seems likely that things will get worse on the campaign trail now that he's a 2020 contender.
For now, though, check out some of his past statements about the president: