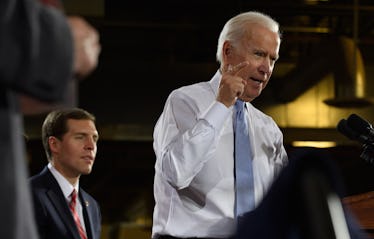 Joe Biden Made Yet Another Well-Intentioned But Problematic Comment About Trump
Jeff Swensen/Getty Images News/Getty Images
At a March 20 anti-sexual assault rally at the University of Miami, the message of the day was to raise awareness and help create a college culture in which assault and gender-based violence is unacceptable. Vice President Joe Biden's quote about President Donald Trump and locker rooms may have missed the mark, when he said he would have "beat the hell out of" Trump if they went to high school together.
Biden, in a fiery address to the students in Miami, cited Trump's infamous p*ssy-grabbing comment, and his apparent befuddlement at Trump's rise to power.
"A guy who ended up becoming our national leader said, 'I can grab a woman anywhere and she likes it,'" Biden said. "They asked me if I'd like to debate this gentleman, and I said 'no.' I said, 'If we were in high school, I'd take him behind the gym and beat the hell out of him.'"
Apart from vowing violence at an anti-violence rally, Biden also made comments that fly in the face of body positivity, claiming that most men who disrespect women — verbally or physically — are fat and ugly.
"I've been in a lot of locker rooms my whole life," Biden continued. "I'm a pretty damn good athlete. Any guy that talked that way was usually the fattest, ugliest S.O.B. in the room."
In addition, Biden commended the country on its progress battling sexual assault and touted the #MeToo movement.
"Today's @itsonus rally reminded us that we are responsible for creating an environment where sexual assault and gender-based violence is unacceptable," the University of Miami tweeted Tuesday evening. "Thank you @joebiden for bringing us your legacy of ending violence against women and empowering our students to take action."
Though Biden's comments may have been well-intentioned, many people on social media saw the remarks as feeding into the shaming and othering of body types.