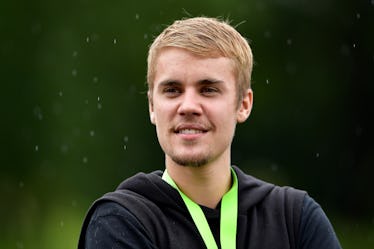 Justin Bieber's Dad Posted After His Reported Engagement & I'm Emotional
Stuart Franklin/Getty Images Sport/Getty Images
In the world of 2018 celebrity engagements, is there such a thing as "too fast?" Apparently, not, because Justin Bieber and Hailey Baldwin are reportedly engaged. And while the reports that the Biebs put a ring on it haven't officially been confirmed, there's at least one person (besides the reported happy couple) who seems thrilled. Jeremy Bieber's Instagram after Justin Bieber's engagement reports is so sweet, and all I can say is I hope these rumors are true, because things are getting emotional here.
According to TMZ, the younger Bieber is about to be a married man. He reportedly popped the question to on again off again girlfriend Hailey Baldwin in the Bahamas on Saturday, July 7. According to the reports, the pair were dancing at a restaurant at the resort where they were staying, when Bieber's security reportedly went around asking everyone to put away their phones because "something special" was about to happen. That something special was apparently an engagement — because Bieber then supposedly proposed to Baldwin in front of the whole crowd. Elite Daily reached out to representatives of both Bieber and Baldwin about the reported engagement, but did not immediately hear back.
But the timing of this Instagram from Bieber's dad is making me raise my eyebrows and say, "hmmmm." The following morning on July 8, Jeremy Bieber posted to Instagram, tagging his son and saying how "excited" he was for the next phase in Bieber's life. He wrote, "@justinbieber Proud is an understatement! Excited for the next chapter!"
So are we all, Jeremy. So are we all.
The two have only been dating for about a month, following a wild ride of a relationship — either platonic or romantic, depending on the moment — that's spanned the course of over a decade. The two first met back in 2009, after they were introduced by Baldwin's dad, Stephen Baldwin (paternal approval seems to be a theme here). And in 2014, she started showing up regularly on his Instagram, where the two seemed to get awfully cozy on the regular. And then in early January, the two appeared to confirm their relationship when Biebs posted a pic of the two of them actively smooching. Looked pretty "on" to me.
But in February of that year, Baldwin denied they were an exclusive couple. She told E!,
We are not an exclusive couple. He's about to go on tour. Relationships at this age are already complicated, but I don't really like to talk about it because it's between me and him.
But of course, there's a lot of fish in the celebrity seas. In October 2017 Bieber was reportedly back on again with his other on again off again ex, Selena Gomez, and the two were seen out and about getting romantic. In November of that year Gomez talked about rekindling a relationship with her ex, telling Billboard,
I'm 25. I'm not 18, or 19, or 20. I cherish people who have really impacted my life. So maybe before, it could have been forcing something that wasn't right. But that doesn't mean caring for someone ever goes away. And [that goes for] people in general.
But it didn't last. The two apparently split up in March of 2018, because love is but a fleeting happiness. And as of June 2018, Bieber and Baldwin have been seen looking as couple-y as ever, locking lips all around New York, and now, apparently, getting engaged. I guess that's about as official as you can make it.
Anyway, congrats to the rumored newlyweds-to-be. Let us all know when you've set a date, won't you?