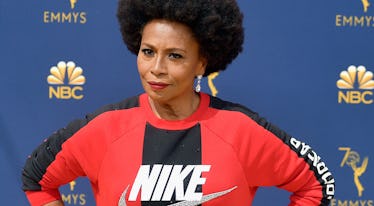 Jennifer Lewis Just Showed So Much Support To Colin Kaepernick & Nike On The Emmy Awards Red Carpet
Matt Winkelmeyer/Getty Images Entertainment/Getty Images
Typically, standout red carpet ensembles are identified by the longest of gowns, the brightest of color combinations, or the most unique accessories and hairstyles. At the 2018 Emmy Awards, however, a much more casual look quickly earned itself the title of showstopper of the night: Jennifer Lewis' 2018 Emmy Awards look made a strong statement with a casual flair, as she rocked full-on bedazzled Nike athleisure, in support of the brand's latest ad campaign with Colin Kaepernick.
If you haven't heard all the deets on Nike's major, somewhat controversial ad campaign featuring former NFL quarterback Colin Kaepernick, it's time you checked it out, as the responses from both supporters and haters have been equally intense.
Kaepernick, now a free agent, has become a household name (sometimes notoriously so, depending on the household) after kneeling during the national anthem in protest of racial injustice throughout the United States. Nike launched their campaign on Sep. 3, and while fans of Kaepernick were thrilled at Nike working with him, many were appalled at what they considered a poor choice for the brand, and even took to extremes like boycotting Nike and burning their Nike apparel. In fact, a Louisiana mayor reportedly even banned Nike purchases by the city, which just shows how powerful — and divisive — the campaign truly was. Nike wanted to make a dramatic, necessary statement, and they certainly succeeded.
While some were frustrated with the brand's choice to stand with and promote Kaepernick, others were totally thrilled, and have become even bigger Nike fans than before.
Exihibit A: Jennifer Lewis, star of Black-ish, rocking a full Nike fit to the 2018 Emmy Awards — and looking incredible while doing so:
Step aside, gowns and suits, this casual athleisure look is officially my favorite of the night. Lewis paired classic black leggings with a black-and-red crewneck sweatshirt, which featured a bedazzled Nike logo and subtle black embellishments. She also went all out with her red theme when it came to beauty, pairing the chill look with red lipstick and a matching mani.
As for accessories, she contrasted a blingy bracelet, earrings, and ring with these ultra-cool black-and-white Nike sneakers, which are basically foot tuxedos, and therefore very appropriate for a red carpet event:
While Lewis can definitely rock a gown, I'm kinda hoping she continues on with this whole athleisure-at-award-shows thing. It's a huge mood, and it takes someone as cool as her to really pull it off:
"I'm wearing this Nike because I applaud them for supporting Colin Kaepernick and his protest against police brutality and racial injustice," Lewis said on the KTLA "Live From the Emmys" special.
"Nina Simone said the artist's duty is to reflect the times, and that's what I'm doing," she said, noting that in this moment, "These are awakening times."
Lewis' look definitely made a statement on the carpet, just like her show, Black-ish, made its own statement after receiving five Emmy Award nominations, including one for Outstanding Comedy Series. Three of her female co-stars — Anthony Anderson, Tracee Ellis Ross, and Wanda Sykes — all received nominations for their work in Black-ish, and fans can't get enough of the show's sincerity and smart comedy.