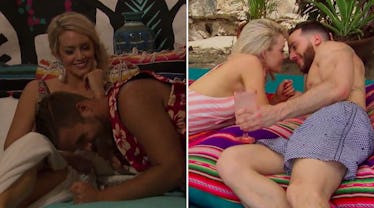 Jenna's Body Language With Jordan On 'BIP' Compared To Benoit Shows They're A Solid Match
ABC
If you aren't watching this season of Bachelor In Paradise, then what are you doing?! The show, which I had never seen until this season, is practically like watching a clown car filled with super attractive people crash into the ocean, in slow motion. It's fantastic. And while there are certainly some couples that seem meant-to-be, there are others that aren't quite there yet. Perfect example? Jenna's love triangle with Jordan and Benoit. But what does Jenna and Jordan's body language on Bachelor In Paradise mean? Well, it turns out that these two feisty contestants might just be the perfect match.
Yes, there's been quite a bit of drama surrounding both Jenna and Jordan since they first met on Paradise. Basically, the two fell real hard, real fast. Everyone can see that Jordan is super into Jenna, and even told her he could fall in love with her. It seemed Jenna was on the same page, even turning down advances from Jordan's sworn enemy, David. (Yes, the chicken guy.) But that was before Benoit arrived.
The Bachelor Winter Games alum from Canada is pretty darn charming, what with his accent and maturity. So it's understandable that Jenna was feeling it with him, too, especially after their romantic date. However, on Monday night's episode, Jenna told Jordan that she wanted to be with him. Personally, I couldn't help but wonder if she made the right choice. That's where body language experts Yana German and Blanca Cobb come in.
We can tell a lot about a couple's compatibility by the way their bodies move together. I asked German and Cobb to take a look at some photos of Jenna with both Jordan and Benoit, to see if maybe they could tell who Jenna's perfect match was really supposed to be. So read on, folks, if you want the full run-down on this love triangle.