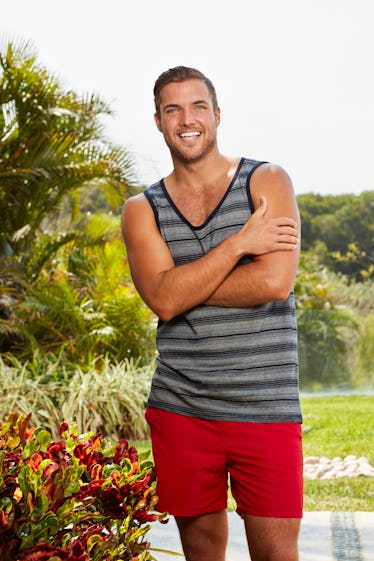 Jordan's Reaction To David Flirting With Jenna On 'Bachelor In Paradise' Was Awkward AF
ABC/Chris Sjodin
The model and the chicken have officially given their rivalry new life! After butting heads on Becca's season of The Bachelorette, it was obvious that Jordan and David would eventually face trouble in Paradise. Cue Jenna Cooper of Arie's Bachelor season, who was introduced during Tuesday's episode of BIP and shook things up right away. Jordan's eyes basically popped out of his head, cartoon-style, and they had what appeared to be the best date ever. But David couldn't allow Jordan to have his romantic moment in the sun, so Jordan's reaction to David flirting with Jenna on Bachelor in Paradise ended up being exceptionally awkward.
Even though Jordan had something brewing with Annaliese, it was clear he had an immediate thing for Jenna. Jenna took notice (she likes his eyes!) and they went on a date that I personally thought was going to end in an engagement. Jordan seemed smitten and Jenna swooned as they rode horses on the beach and made out in the sand.
"This is what I came here for!" Jordan exclaimed, clearly pumped about his promising new relationship. He even went back and admitted to poor Annaliese that he had feelings for Jenna and was likely going to give his rose to her. Not so fast... There's a chicken on the loose and he's about to kill your vibe, Jordan.
Oh, you didn't expect David to not come between Jordan and another girl, did ya?
While Jordan was beaming with love-at-first-sight happiness, David was busy making moves. It just happened to be Jenna's birthday, so he decided to pull a smooth gesture — bring her a birthday cake!
"I'm ready to settle down and I'm never going to be a disingenuous guy. Honestly, I wear my emotions on my sleeve," David promised Jenna, as she totally ate up his words and his cake.
The pair chatted, flirted, and enjoyed their sweet treat... until Jordan became an angry third wheel. They all sat uncomfortably on a daybed together staring out into the dark night sky as Jordan got more and more agitated.
"If there's one that Jordans don't do: Jordans don't sweat David," Jordan said to Jenna, who wasn't quite understanding why he was so heated. He then proceeded to flip over her cake (don't take it out on the cake, man!) and get seriously upset over David's actions. Uh, oh.
Something tells me the David/Jordan/Jenna issues don't stop with this episode. OK, the previews tell me that. In a promo for the season, Kendall is heard saying: "Jenna could be the thing that ignites the feud between Jordan and David." Ya think?
US Weekly released a sneak peek clip from the upcoming episodes of Jordan having some sort of a freak-out while rocking a Hawaiian print vest. The guy is throwing a huge stuffed teddy bear into the ocean and saying he's about to "bring the thunder." Could David be at the source of his outburst?
Bachelor in Paradise airs Monday and Tuesday nights on ABC.