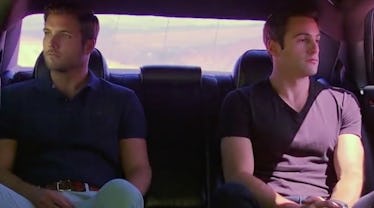 This Week's 'Bachelorette' Promo Shows More Drama With Jordan & David & It's So Juicy
The two-on-one Bachelor Nation just knew was coming is about to arrive. In one corner there's male model with a penchant for hot pants Jordan, in the other there's chicken-suited venture capitalist David. If you want a sneak peek of their showdown, The Bachelorette week 5 promo is packed to the brim with drama, teasing a war of words between Becca's two dueling suitors.
"David is not a distraction, David is not an intimidation," Jordan asserts.
"Jordan is an idiot. I can't wait to send this clown home," David declares.
It looks like these two might spend their precious date time feeding Becca negative commentary about one another. Hey — that's what two-on-ones are all about sometimes! Something tells me she's not going to be very pleased with this sticky skirmish and all the opposing chatter. Did you not hear her plea for transparency last week? Becca has no time for petty bickering.
"Two men. One rose. Who stays? Who explodes?," the clip asks in a supspenseful semi-rhyme.
"Being me is my greatest power. Being you isn't your greatest power, that's why you gotta talk about m ... You're worse then Arie!" Jordan exclaims to David at one point.
Oh, no you did not just use the A word.
It will be interesting to see how this all plays out. The long-running franchise has a history of putting rivals on a two-on-one, becuase it usually makes for tense TV and then one of them is sent packing. Arie's season of The Bachelor created maximum drama by pitting Season 22 "villain" Krystal and the straightforward Kendall against each other. Taylor and Corinne went head-to-head for Nick Viall's attention a year earlier in a swampy situation and Corinne came out on top. And who could forget Olivia Caridi seemingly stranded on an island following her face-off with Emily? Not to mention Ashley I. and Kelsey left hangin' in a frickin' desert?
It's still early in the Season 14 game, but David and Jordan's feud has already gotten a significant amount of screen time. After David took a burtal fall off a bunk bed and was sent to the hospital, his absense appeared to be a win for Jordan — who gloated about a potential victory now that his opponant was out of commission.
"David's in a hospital bed, so smells like victory," Jordan said last week.
"Did anyone give him a mirror?" he added upon David's return.
Joke was on him, though, because David got a rose from Becca before the rose ceremony even commenced. But in what universe does the Bachelor or Bachelorette not show extra love for an injured or trauma-facing contestant? It's basically the tried and true formula.
Becca has already made it clear that she's not interested in getting in the middle of arguments throughout the Bachelorette process.
"I'm trying to weed out the drama as early as possible. Like, I don't want drama," she told ET before her season's premiere. "If there's a guy that's not meshing well with the other guys, I probably won't want to keep him around that long."
The leading lady has already contended with a contestant who dated her friend in the past, a guy leaving prematurely because he broke his wrist, and an incident involving throwing a fake wedding photo in a pool. And it's only week 5.
On next week's episode Becca and the guys head to Las Vegas. What happens there obviously does not stay there, so Bachelor Nation should probably start prepping for what looks like a cringey two-on-one now.
The Bachelorette airs Monday at 8 p.m. ET on ABC.