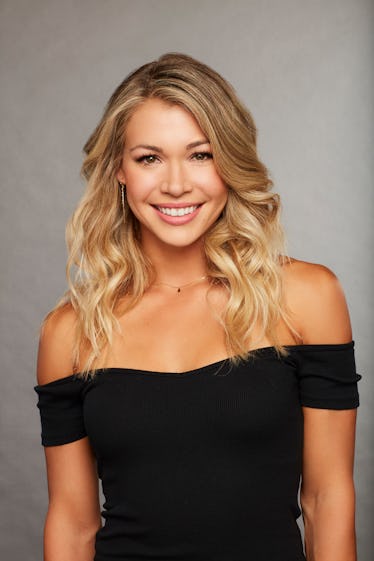 Krystal & Kendall Had An Intense 2-On-1 'Bachelor' Date & Fans Are Shook
ABC/Chris Sjodin
Wow. Bachelor Nation never saw this coming. Just kidding, because Krystal 2-on-1 date was completely inevitable considering what's been going on. The contestant has had a rocky road the past few episodes — she stopped a rose ceremony in its tracks so she could address Arie and then she had a meltdown about bowling. Let's just say the other ladies haven't been all too pleased with her behavior. One of those more outspoken ladies has been Kendall. Naturally, the two Ks went head-to-head on a date because this show knows exactly what it's doing.
Let's back it up. How exactly did we get to this dramatic crossroads? Last week, it all went downhill when Krystal didn't respond well to the concept that Arie could change his mind. Tension kicked off with a bowling alley group date competition where the winning team was told they'd get extra Arie time. Krystal's group came out victorious, but then Arie felt it was unfair to send the losers home early. That's just about when things took a turn. Krystal did not take kindly to this last-minute switch, allegedly lashing out on the bus back, feeling disrespected and accusing Arie of being "liar." She refused to go to the cocktail party (also saying she was packing her bags), which of course prompted Arie to come a-knockin.'
The subsequent convo between Krystal and Arie was... awkward. And as to be expected, her actions did not fly without getting called out by her fellow competitors. "I don't really think that maybe Arie's the person for you right now. Only because, if you were able to have those emotions and negativity towards him, I don't see the correlation in how you reacted and you having love for him," Kendall confronted Krystal, explaining how the women were confused by her intentions. After everything, Krystal still got a rose in the end.
So, why did Arie keep her around? Olivia Caridi, former Bachelor controversial contestant, knows what's up. And we suspect you already knew too, clever viewers.
You may recall that Caridi appeared stranded on a friggin' island when Ben Higgins sent her home during a two-on-one in Season 20.
Which brings us up to speed. From Fort Lauderdale to Paris! Ah, the city of love. The land of French kissing — one of Arie's favorite pastimes, no doubt.
Krystal and Kendall's moment of truth arrived in the form of the dreaded two-on-one. "If Krystal stays, I might as well jump in the river," noted Tia regarding the match-up. Tell us how you really feel. What does Twitter think?
So, there the women and Arie are at a beautiful chateau pretending to be focused on 18th century art when it's clear they can't get their minds off the fact that a two-on-one date is not a real thing that should ever happen in the real world because it's a brutal situation. There's a maze involved because perhaps the producers wanted a metaphorical nod to the fact that this is all one big twisted game, they're doing a veiled Shining reference, or there happened to be a maze available for filming that day.
Unfortunately for Kendall (or fortunately?), Krystal filled Arie's head with gobbledygook about how Kendall's not in a position to settle down. "I just had a chat with Krystal," he revealed to Kendall. "She said, 'I don't think Kendall's ready for marriage and I don't even know why she's here.'" Yeah, when has talking about another person ever served anyone on this series?
Phew. The two-on-ones are definitely the most stressful events to watch when it comes to this show. We're exhausted and we're on our couches putting in absolutely no effort.