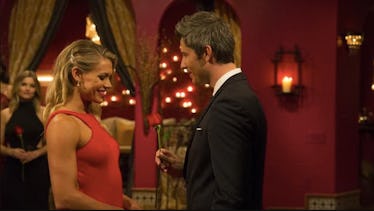 'Bachelor' Arie Reveals Why He Gave Krystal A Rose & It Makes Complete Sense
ABC
If you were left scratching your head and asking, "huh?" after Arie kept Krystal around on this week's episode of The Bachelor, you're probably not alone. Monday's installment of the reality dating extravaganza was chock full of drama surrounding the controversial contestant, as she threw a mini-meltdown following a bowling group date and refused to attend the cocktail party (she later joined, but that only raised tensions higher). So, why did Arie give Krystal a rose? As Arie noted on the show, she's "further along" than the other women because of their intimate hometown one-one-one. And now the leading man is clearing things up his decision to keep Krystal, despite everything that went down.
He blogged in People,
The thing about love is it's not always easy. It's not all exotic dates and romantic one-on-ones and sunsets. She told me she was stressed and made a mistake and got angry. I've made mistakes and been upset about things I shouldn't have been upset about. We all do that, it's human. Was it a red flag for me personally? Yes, totally. I still, to this day, see the events very differently from her. The choice to not join the cocktail party was pretty immature and irrational. But the connection Krystal and I had that first week in Scottsdale was real and I wasn't ready to throw it away just because she was having a hard week. That didn't seem fair because we've all had irrational blow-ups before.
Fair enough? Krystal's "irrational blowup" came following a group date where Arie initially stated that the winning team of a friendly bowling match would be able to spend more time with him later. But then came an unexpected change of plans. Arie later felt that outcome wasn't fair and pulled the old switch-a-roo, deciding that the losers should have a shot as well. This did not go over with Krystal (who helped lead her team to victory), who apparently lost it on the bus ride home, allegedly calling Arie a "liar" because he went back on his word. She then proceeded to skip out on cocktails, which prompted Arie to go visit her and give her an uninterrupted pep talk. "This is our first fight!" Krystal proclaimed, following their admittedly awkward chat. "It could be our last fight," Arie responded. While audiences thought that hinted at the fact she might be sent packing, that was not the case.
Of course, Krystal's behavior continues to be a sore subject with the other ladies. Bekah in particular called Krystal out for her actions, asking, ""Why are you still here?" among other things. And Arie clearly took notice. "For all the obvious disappointment I felt about Krystal, I felt equal parts pride and connection to the women who came to my defense. Bekah and Kendall really put themselves out there to defend me and my actions, and it says so much about their character that they were willing to speak out on behalf of me," he blogged following the episode.
We are not denying any true sparks between Arie and Krystal — she's already met his parents, seen his baby photos, and seriously opened up to him, which means a lot. That's like date fifteen in non-reality world. But could there be another factor contributing to why she keeps getting those roses? Former Bachelor contestant Olivia Caridi offered up this slice of observation via Twitter on Monday regarding Krystal's staying power:
Sure, there very well may be a dramatic exit coming in the form of a two-on-one, but it also seems Arie has real personal reasons for keeping Krys in the game.
Bachelor Nation will have to see who Arie bids adieu when the ladies head to the city of love next week. We're going to go ahead and guess that there's some French kissing in this Bandit's future.