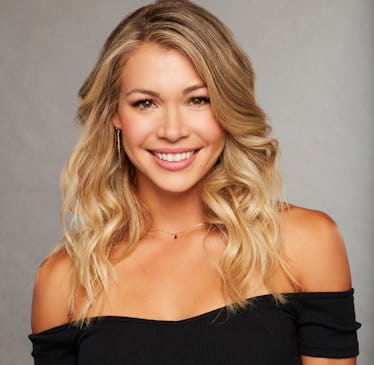 The Reason Krystal Hasn't Been Sent Home On 'The Bachelor' Yet Makes A Lot Of Sense
Watching this week's episode of The Bachelor, you probably were convinced that Krystal was going to make a dramatic exit after dumping her "glitter" truth bombs on the other women. ABC then spoiled the fun by airing next time's preview in the middle of the episode, confirming that Krystal joins the women's international adventure for at least another week. If you were confused about Krystal remaining on the show, former Bachelor "villian" Olivia Caridi's tweet about Krystal may change your perspective.
For viewers newer to the franchise, Olivia appeared on Ben Higgins' Bachelor season in 2016 at the ripe old age of 23. The former news anchor wasn't necessarily a villain in the same vein as Krystal, but made certain comments that were edited to appear offensive to the other women. She called single mom and future Bachelor in Paradise star Amanda Stanton a teen mom and was often targeted because of her attempts to talk to Ben alone.
Although she hasn't appeared on any Bachelor spinoffs, Olivia has remained a prominent name in the franchise, often live-tweeting episodes and interviewing other Bachelor stars on her podcast (which I genuinely believe is the best of the onslaught of Bachelor alum podcasts). This week, speaking as one "villain" about another, she reminded viewers why Krystal may stick around for awhile:
During Week 6 of her season, Olivia went on a two-on-one date with Emily, one of the infamous twins, while the group was in the Bahamas. This continued the previous season's trend of selecting the "villain" and someone he or she famously clashed with to fend against each other on the two-on-one. Olivia was memorably left behind on an island when Ben dumped her, earning her a perennial spot on a list of top Bachelor exits.
Olivia was far from being the last villain archetype to leave the show via a two-on-one. While they might not always face off against their number one enemy, the villain has inevitably been eliminated on a two-on-date after the other contestant fills in the lead on the villain's true colors.
Think back to The Bachelorette last summer, when building tension over Lee's racist tendencies exploded on a two-on-date with him and Kenny. Lee's status at the end of the night? Eliminated.
The previous summer, Chad Johnson, arguably the most frightening franchise villain, feuded with just about all the men on JoJo Fletcher's season. He was paired with relatively forgettable Alex for a two-on-one, but I think any of the other men could have been in Alex's place and Chad's exit still would've been dramatic.
While there's a solid history of Bachelorette villains being eliminated on two-on-ones, the concept hasn't exactly been a foolproof way to get rid of troublemakers. On last year's Bachelor season with Nick Viall, Taylor and the highly meme-able Corinne were taken on a two-on-one after arguing earlier in the week. Depending on how you felt about these two, Corinne staying over Taylor was probably the only example of a "villain" ever becoming a serious contender on The Bachelor.
In next week's teaser, we caught sight of a producer rolling away one of the women's suitcases, followed by Krystal looking pretty confident and in charge. If she doesn't see her end with Arie in Paris, the next week may be a perfect time for a two-on-one date.
Now that the focus is off her young age, Bekah M. had no qualms about confronting Krystal about her behavior in this episode. You could argue that Arie likes Bekah too much to invite her on a two-on-one, but he supposedly really digs Krystal too. Major front-runners usually don't go on two-on-ones, but this could be an interesting exception.
Of course, amidst all of this, we have to remember that reality TV villains are often not what they seem. As Olivia said in an interview with other Bachelor "villain" (and a former fling of Arie's!) Courtney Robertson:
I obviously knew during filming that I was struggling and that I might have a funky edit, but I wasn't prepared to see things play out differently than they actually happened in order to make me more villainous. It's not like I walked into the experience thinking there was a possibility I could be a villain. I was a bit naïve in that sense, thinking that everything would play out the way it happened.
Villains are humans too, folks.
Until Krystal's Bachelor fate is sealed, I'll be over here wondering why these women are competing for a guy who licked a bowling ball.