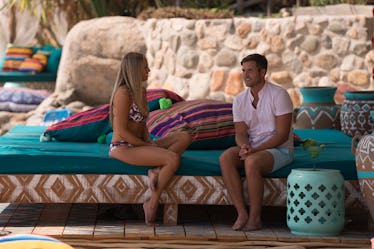 Bachelor Nation Is Low-Key Into Jordan & Annaliese After 'Paradise' Week 2
ABC
Millions of viewers probably wanted to sound a warning gong when Bachelor in Paradise's Annaliese Puccini seemed to hit it off with male model and quasi-Bachelorette villain Jordan Kimball in Season 5's premiere episode. Jordan first buttered her up by telling her that she was his mother's Bachelor favorite, and despite a warning from Jordan's Bachelorette nemesis, Annaliese fell for his endearing nature and went on a romantic date on the beach with him in Week 2. Since the unlikely pair actually seem pretty smitten with each other, are Jordan and Annaliese dating after Paradise?
Although she became known on Arie Luyendyk's season of The Bachelor for revisiting her childhood traumas during group dates, Annaliese entered Paradise with an even more determined mindset to go the Jade-and-Tanner / Carly-and-Evan route and make a lasting match. Jordan, known for his highly quotable antics on Season 14 of The Bachelorette, wasn't exactly one of those contestants fans wish to find love on Paradise, but after hinting at his attraction to Annaliese in Week 1, Jordan followed through on his feelings in Week 2, planning out their own private dinner date on the beach.
With Jordan paying her more attention, David felt obligated to follow his chicken senses and warn Annaliese about Jordan before she had her special evening with him. The Bachelor women are at a disadvantage in Paradise because filming coincides with the majority of the Bachelorette season airing on TV, so although he might've stepped a toe out of line, David probably meant well in approaching Annaliese.
During their one-on-one meeting, David emphasized that he knew Annaliese was serious about this process, thus why he pointed out that Jordan might just be wanting a rose from her. With more than one woman now impacting his status in Paradise, does David think that essentially being Chicken Little on the beach won't send him home again?
Annaliese wasn't easily won over by David's warning, saying that she wanted to "go with" any possible relationship that came about. She followed through on her plans with Jordan, who threw together quite the sweet oceanside date for them. In perhaps his most honest and low-key confessional yet, Jordan admitted he had a soft spot for her, calling Annaliese a "flower." Surprisingly cute, right?
Bonding over Annaliese's artistry and Jordan giving her her first Bachelor franchise kiss, the couple seemed to win over the hearts of Bachelor Nation. Well, strangers things have happened.
As for whether the two's relationship survived Paradise, we won't know for sure until after the season. You won't find any clues about their current status on the Instagram pages of Jordan or Annaliese, but if we're going by social media, Jordan has developed quite the love affair with Grocery Store Joe. This is the brotherhood we didn't know we needed.
However, Jordan did basically confirm he's with someone in an interview with his local newspaper in Florida. Speaking to The Chronicle, he said:
In Paradise, you get to see the other side, the actual human being I am. I'm not really obsessed with myself. I do find someone for me in Paradise. It ends on a very good note.
Is Annaliese the special lady that won Jordan's final rose? Fingers crossed that this surprisingly sweet pair last until the end!
Bachelor in Paradise returns on Tuesday, Aug. 14, on 8 p.m. ET on ABC.