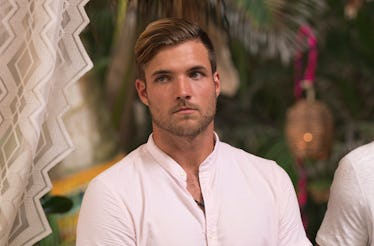 This Photo Of Jordan From 'Bachelor In Paradise' Modeling Scrubs Is Pure "Professionality"
ABC
Love him or hate him, but male model Jordan Kimball clearly isn't going anywhere on Season 5 of Bachelor in Paradise. Although Jenna Cooper, the apple of his eye, felt torn between him and David "Chicken" Ravitz and then flirted with Bachelor Winter Games alum Benoit Beauséjour-Savard, Jordan now seems fairly secure in his relationship with the bubbly blonde. Following his Paradise stint, it wouldn't surprise me if Jordan scored some prestigious modeling gigs, but this photo of Jordan from Bachelor in Paradise modeling scrubs shows that he's had some survival jobs just like the rest of us. All in the name of "professionality," right?
Jordan isn't shy about the fact that he's signed with Wilhelmina Models, a renowned agency that I know about solely thanks to America's Next Top Model reruns. However, he seems to work primarily in Florida, which, as Night One castoff and fellow Wilhelmina employee Kamil pointed out on Men Tell All, is far from the mainstream modeling market of New York. Judging by the quality of photos on Jordan's Instagram, he still has had his fair share of traditional, brooding photoshoots, but we all hit rough professional patches every now and then, and Jordan is no exception.
For example, Reddit user RadioMars recently posted a snapshot of Jordan in a catalog for Urbane Scrubs healthcare wear. Work that face of professionality, dude.
While the image inspires me to cast Jordan in a group of interns on a Scrubs revival, he actually has quite a history of working within this medical industry, and for doctors and nurses, the Urbane brand actually seems pretty legit. On the Reddit thread sharing the picture, several commentators have written that Urbane happens to be their favorite brand of scrubs. Is this what medical professionals talk about in the break room?
Jordan is also apparently the brand's go-to male model, even appearing on its website homepage. Instead of typical Instagram ads about food services and eyewear, will Jordan's post-Bachelor social media career include partnerships with hospital supply companies?
On Instagram, Jordan has even shared a photo of himself posing for the Landau brand of scrubs, which seems to be a partner company of Urbane. Excuse me while I add this to a Pinterest inspiration board of ideas for a TV pilot starring very happy doctors.
It's too soon to tell, but if Jordan's Paradise relationship with Jenna works out IRL, she's fully equipped to help his modeling pursuits flourish. On Arie Luyendyk's Bachelor season, she was listed as a social media manager, so Jenna and Jordan could always become a power couple in the modern modeling / influencer world. Now there's a reality show I would watch — no guest appearances from Tia and Colton, please.
There's no shame in raking up experience in a smaller market to make ends meet, and although he still has an active page for himself on Wilhelmina Models' website, it looks like Jordan's not afraid of taking on more modest opportunities. Saying yes as often as possible? That's professionality.
Bachelor in Paradise continues on Tuesday, Aug. 28, at 8 p.m. ET on ABC.