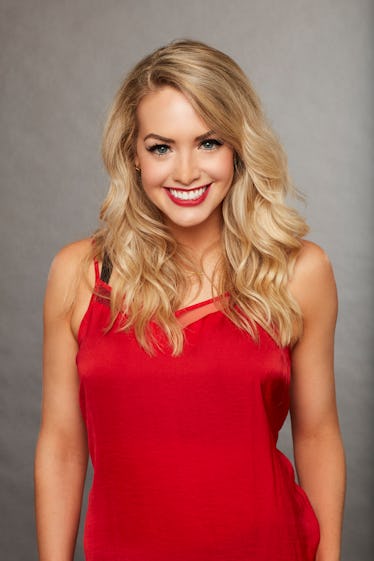 It Looks Like Another Jordan & David Love Triangle Is Coming On 'Paradise,' So Get Ready
ABC/Craig Sjodin
A new dramatic extended trailer for Bachelor in Paradise Season 5 debuted during The Bachelorette's "Men Tell All" special introducing a fresh batch of faces Bachelor Nation can expect to see look for love in Mexico come August's anticipated premiere. Who is Jenna on Bachelor in Paradise? One standout Bachelor alum on the promo happens to be Jenna Cooper, and it appears the alum from Arie's season is going to be emroiled in a love triangle involving none other than Jordan and David.
"Jenna could be the thing that ignites the feud between Jordan and David," Kendall is heard saying in the clip.
Becca's Bachelorette cast-offs David and Jordan memorably clashed during their time on Season 14. The male model and the chicken-suited venture capitalist were both sent packing in week 5 following a tense 2-on-1 in Vegas. The guys' feud escalated from petty fight to ridiculous argument, where neither of them ended up looking exactly above the bickering in Becca's eyes. Now it seems the enemies will be facing another obstacle that will add new fuel to their firey grudge while they're Mexico. Does Jenna come between these reality TV adversaries? It's clear she has at least something to do with thier continued rivalry.
Jenna Cooper, a social media manager originally from Indiana, competed on Arie's Season of The Bachelor. She was eliminated in Week 6 during the show's Paris trip. She's now based in Raleigh, North Carolina and while she didn't have immediate plans to keep doing the reality TV thing, she obviously came around to the idea.
"I feel like Bachelor in Paradise isn't necessarily my scene. It could be fun, though. It could be another chance to show the world another side of me. I would consider anything at this point, I think I'm pretty open," she told The News & Observer following her Season 22 exit.
"I was ready to be open to meet someone, to make new friends, to travel – and apparently I was just OK with that being aired to the entire world," she added, discussing the Bachelor experience. "So it was kind of just a whim. ... I thought, well, if I get on, I'm gonna go for it."
You may recall some Jenna highlights from her stint on the season, like when she said she would "drink her pee for" or Arie or the time she went ahead and washed his feet. Perhaps there will be more Jenna gems like those on Paradise.
Jenna revealed on her Bachelor ABC bio that her ideal mate is "funny with a sense of humor; loving, compassionate, comfortable with feelings and emotions; intelligent, driven." Will she find love in Mexico with David or Jordan? Jordan also seems to make a connection with Krystal, her fellow competitor on Arie's season, so perhaps there's another love triangle overlapping there. Man, BiP is already getting complicated and it hasn't even officially started.
Bachelor Nation will start to learn more when Bachelor in Paradise kicks off Tuesday, August 7 on ABC.