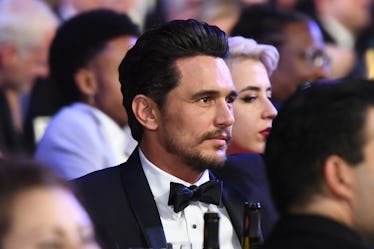 James Franco Was Reportedly Edited Out Of 'Vanity Fair's Hollywood Issue Cover
Dimitrios Kambouris/Getty Images Entertainment/Getty Images
Within days of winning Best Actor in a Musical or Comedy at the 2018 Golden Globes for his role as Tommy Wiseau in The Disaster Artist, several women came forward and accused actor James Franco of taking advantage of his power, and have since accused him of sexual misconduct. Franco has since spoken out about the allegations, saying "If I've done something wrong, I will fix it." Elite Daily reached out to Franco's team regarding the allegations, but did not hear back by the time of publication. And now, reports say that James Franco was edited out of the cover Vanity Fair's Hollywood issue in the wake of these allegations.
The cover, shot by Annie Leibovitz, features A-listers like Nicole Kidman, Gal Gadot, and Tom Hanks (not to mention Oprah and Reese Witherspoon with extra limbs, thanks to some major Photoshop oversights), but they aren't just any old celebrities: These actors and actresses represent the men and women who are standing behind the #MeToo movement and are choosing to let their voices be heard, stepping in for those who are unable to speak. In the Hollywood issue, Vanity Fair had this to say about the cover stars:
The films and TV shows represented by the actors in this year's Hollywood Portfolio—which for the first time offers a behind-the-scenes look at the shoot—took the #MeToo movement in stride, offering strong women in leading roles, as well as strong men supporting them.
So, it's pretty clear why Franco was given the boot from the cover, after hearing about the allegations against him by five women who are choosing to speak out. A spokesperson for Vanity Fair told The Hollywood Reporter about the decision,
We made a decision not to include James Franco on the Hollywood cover once we learned of the misconduct allegations against him.
The allegations of sexual misconduct against Franco were brought up during an appearance he made on The Late Show with Stephen Colbert on Jan. 9. On the show, he said,
In my life, I pride myself on taking responsibility for things that I've done. I have to do that to maintain my well-being. I do it whenever I know that there's something wrong or needs to be changed. I make it a point to do it. The things that I heard were on Twitter are not accurate, but I completely support people coming out and being able to have a voice, because they didn't have a voice for so long. So I don't want to shut them down in any way. I think it's a good thing and I support it... I can't live if there's restitution to be made. I will make it. So, if I've done something wrong, I will fix it. I have to.
On Saturday, Jan. 20, Scarlett Johansson spoke at the Women's March in Los Angeles and threw major shade at Franco, in addition to calling out many organizations as a whole that allow abuse of power. She said,
How could a person publicly stand by an organization that helps to provide support for victims of sexual assault while privately preying on people who have no power?
She then ended her statement with a comment that her representatives confirmed was pointed towards Franco:
I want my pin back, by the way.
Since the allegations against him, Franco has since missed the Critic's Choice Awards (where he won best actor in a comedy for his role in The Disaster's Artist) and was snubbed for an Oscar nomination for the same role.
In a time where the voices of those ignored for so long are finally being heard, it looks like we'll have to wait and see if Franco lives up to his promise of righting his wrongs.