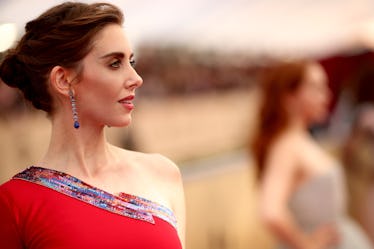 Alison Brie Just Broke Her Silence On James Franco's Sexual Misconduct Allegations
Christopher Polk/Getty Images Entertainment/Getty Images
A few weeks ago, James Franco was on top of the world. He had just won a Golden Globe for his performance in The Disaster Artist. He was nominated for the film at the Critics' Choice Awards and the SAG Awards, and he was considered a frontrunner for an Oscar. And then, it all came crashing down, when five women came forward and accused him of sexual misconduct, including accusations that he exploited his role as director in a movie some of them worked on. Now, Franco's sister-in-law, Alison Brie, has responded to James Franco's sexual misconduct allegations. Elite Daily has reached out for comment on the reported claims and did not receive a response by the time of publication.
In response to the allegations against him, Franco gave the following statement on The Late Show with Stephen Colbert:
In my life, I pride myself on taking responsibility for things that I've done. I have to do that to maintain my well-being ... I do it whenever I know that there's something wrong or needs to be changed. I make it a point to do it ... The things that I heard were on Twitter are not accurate, but I completely support people coming out and being able to have a voice, because they didn't have a voice for so long ... So I don't want to shut them down in any way. I think it's a good thing and I support it. I can't live if there's restitution to be made. I will make it. So, if I've done something wrong, I will fix it. I have to ... That's how that works. I don't know what else to do.
Since then, Franco has kept mum on the claims and did not attend the Critics' Choice Awards on Jan. 11, 2018, where he won an award for The Disaster Artist. He did not appear on the SAG Awards red carpet on Sunday, Jan. 21 either, though he was apparently spotted at the ceremony, according to People.
One of the people James Franco thanked at the Golden Globes earlier this month was his brother and Disaster Artist co-star, Dave, stating that he had always wanted to be like the Coen Brothers, only to realize he had been all along. Dave has never had quite as huge a career as James has, though he did star in the 21 Jump Street remake, Neighbors, and many other comedies. In his personal life, Dave is married to Alison Brie, who had her breakout role in Community and was nominated for a SAG Award for her starring role in Netflix's Glow.
Brie walked the red carpet this evening, along with the rest of the Glow cast. Though not everyone knows she's related by marriage to James Franco, it came up, and she was asked for comment by E!, especially in light of her support for the Time's Up movement.
In response to the allegations against her brother-in-law, Brie said,
I think that above all is — what we've always said is that it remains vital that anyone who feels victimized should and does have the right to speak out and come forward. I obviously support my family and not everything that's been reported is fully accurate, so I think we're waiting to get all the information.
However, the actress knew she couldn't just leave it there. She continued,
But, of course, now is a time for listening and that's what we're all trying to do.
We'll have to see if Franco addresses the allegations again if he gets another turn at an awards show podium this season.