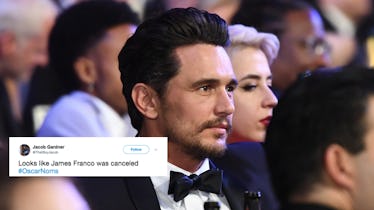 James Franco Wasn't Nominated For An Oscar, But Twitter Was OK With That
Getty Images
Up until the Golden Globes, James Franco was having a really good year for his film, The Disaster Artist. Based on the creation of one of the worst movies ever made, (The Room) the meta-comedic-commentary on the Hollywood system was an industry favorite. Franco was getting nominated all over the place for his performance and even won Best Leading Actor for it at the Golden Globes. And yet, tweets about James Franco's Oscars snub this morning are anything but angry about it. What happened?
What happened was that Franco won the Golden Globe, and stood up on stage wearing a Time's Up pin while he accepted it. With the #MeToo movement going strong, suddenly there were actresses watching at home jumping on Twitter to suggest that allowing Franco to wear said pin, and be awarded in such an atmosphere, showed the movement was not serious about making change. Within days, five women had stepped forward to accuse Franco of sexual misconduct. Elite Daily has reached out to Franco's team for comment on the reported claims but did not receive a response by the time of publication.
In response to the allegations against him, Franco gave the following statement on The Late Show with Stephen Colbert:
In my life, I pride myself on taking responsibility for things that I've done. I have to do that to maintain my well-being ... I do it whenever I know that there's something wrong or needs to be changed. I make it a point to do it ... The things that I heard were on Twitter are not accurate, but I completely support people coming out and being able to have a voice, because they didn't have a voice for so long ... So I don't want to shut them down in any way. I think it's a good thing and I support it. I can't live if there's restitution to be made. I will make it. So, if I've done something wrong, I will fix it. I have to ... That's how that works. I don't know what else to do.
Those allegations were printed on Jan. 11. The next day, voting for the Oscar nominations for this year closed. On Tuesday, Jan. 23, when the nominations were announced, Franco was not among those for Leading Actor, and The Disaster Artist found itself with only a single nomination.
Were fans mad about the outcome? No. We don't know if there was a direct cause and effect here.
But it's moments like this that make the #MeToo movement feel like the voices of women are making a difference. And headlines like these definitely help with the impression.
Immediately, Franco's hammy acting moments became part of the reactions.
While others just shrugged and smiled.
Some pointed out this might be the death knell of his career.
While others pointed out that by removing him from contention, other actors were given room to get an otherwise unexpected nomination... like Denzel Washington.
Other just laughed and laughed. GIF laughing, that is.
Others saw the overall picture of this year's nominations as a major win for everyone.
Some pointed out that Franco won't have to avoid the red carpet now. (Franco has skipped every red carpet since the allegations broke.)
There were those who struggled with the news.
And some straight out complained that it wasn't fair.
Some overreacted, acting as if The Disaster Artist had no nominations at all. It does. Just, none that would involve having to invite Franco.
Personally, my favorite response:
Congratulations to all the Leading Actor nominees. The Oscars air live on March 4, 2018 at 8 p.m. ET on ABC.