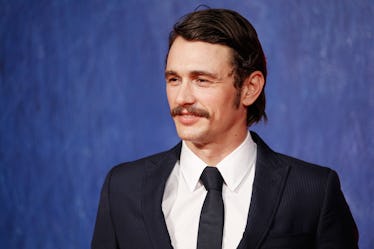 3 More Women Accuse James Franco Of Sexual Misconduct In Upsetting New Article
Andreas Rentz/Getty Images Entertainment/Getty Images
In the immediate days following his Golden Globes win, James Franco was accused of sexual misconduct by five women. In an upsetting interview with The Los Angeles Times, these women describe their alleged experiences with the actor. Elite Daily reached out to Franco's team for comment on the accusations, but did not hear back by the time of publication.
It started after Franco accepted the Golden Globe for Best Actor in a Motion Picture Musical or Comedy for his work in The Disaster Artist. Franco was sporting a Time's Up pin at the awards show in support of the anti-harassment movement currently sweeping Hollywood. Time's Up aims to provide legal support and funding for women who are victims of sexual assault and harassment. The movement was hugely represented by the Hollywood elite at the Globes.
In the hours following Franco's win, actress Violet Paley accused him of sexual misconduct and hypocrisy for wearing the Time's Up pin on Twitter. Four days later, The Los Angeles Times ran its story featuring Paley's and four other women's allegations against Franco. His attorney, Michael Plonsker, disputed these claims.
Paley was the first to speak out when she tweeted,
She went on to clarify that she was not personally underage at the time of her alleged experience, and claims she and Franco were actually in a consensual relationship at one time.
Another woman named Sarah Tither-Kaplan accused Franco of sexual misconduct. She claims Franco paid her $100 to appear nude in two of his films after promising it would not be "exploitive." She tweeted,
On Tuesday night, Franco addressed Paley and Tither-Kaplan's allegations on The Late Show With Stephen Colbert. He said,
In my life, I pride myself on taking responsibility for things that I've done. I have to do that to maintain my well-being ... I do it whenever I know that there's something wrong or needs to be changed. I make it a point to do it ... The things that I heard were on Twitter are not accurate, but I completely support people coming out and being able to have a voice, because they didn't have a voice for so long ... So I don't want to shut them down in any way. I think it's a good thing and I support it." He continued, saying, "I can't live if there's restitution to be made. I will make it. So, if I've done something wrong, I will fix it. I have to ... That's how that works. I don't know what else to do.
Tither-Kaplan and Paley spoke with The Los Angeles Times about their allegations against Franco, along with three other women.
Hilary Dusome and Natalie Chmiel, both former acting students of Franco's, also made accusations against him. Both women said they agreed to be part of a project they understood to be a 7 For All Mankind jeans commercial, but claim it was "an unprofessional and hostile shoot at a strip club" instead.
At one point, Franco allegedly asked the women on set, "So, who wants to take your shirt off?" Both women claim he was frustrated and angry when no one agreed.
Dusome recalled the alleged experience:
I felt like I was selected for something based on my hard work and my merit, and when I realized it was because I have nice [breasts], it was pretty clear that was not the case. I don't think he started teaching with bad intentions, but he went down a bad path and damaged a lot of people in the process.
Chmiel claims,
He just took advantage of our eagerness to work and be a part of something bigger. We were all these up-and-coming actors who were so hopeful.
Another woman named Katie Ryan took several classes at Franco's acting school, Studio 4. She claims Franco "would always make everybody think there were possible roles on the table if [they] were to perform sexual acts or take off [their] shirts."
Another Studio 4 student named Devyn LaBella echoed Ryan's words. She claimed,
They would tell us that smaller parts in their projects were being held exclusively for students — often they were opportunities for extra work or parts that required nudity. I didn't have agency representation at the time, so I thought, 'Well, I'm not going to be able to get into good auditions, so this might be my opportunity.'
Tither-Kaplan also recalls an upsetting experience she claims happened with Franco in 2015. Franco allegedly offered her the role of "prostitute" in his feature film, The Long Home. Thinking this could be her "big break," Tither-Kaplan signed on and agreed to participate in nude scenes.
According to her report, producers approached Tither-Kaplan about an opportunity to be involved in a "bonus scene" in which she would appear naked in the background. In the forefront, Franco simulated giving oral sex to women in a group orgy. Tither-Kaplan alleged that Franco removed a clear plastic guard protecting the women's vaginas and continued to simulate the act. However, Franco's attorney Michael Plonsker claims "the allegations about the protective guards are not accurate."
Plonsker also pointed to the actor's interview on The Late Show, and provided a statement by a casting director named Cynthia Huffman who worked on The Long Home. Her statement reads,
[I] personally checked on all the actresses constantly to make sure they were ok and comfortable. James is all about giving up and comers, actors and actresses and young filmmakers a break in this business. I feel horrible that anyone was made to feel uncomfortable but we went to great lengths to make sure all the actresses in the nude scenes felt comfortable and safe.
Before the accusations went public, both Paley and Tither-Kaplan claim Franco spoke with them personally to apologize for his behavior. Tither-Kaplan said, "I want to give him credit for at least being open to communicating with me." She also said, "I felt that he was still not really taking accountability for the environment on the sets."
Paley wrote about the apology on Twitter:
In her interview with The Los Angeles Times, Paley also claims she emailed Franco directly after the allegations came out against Harvey Weinstein, which prompted Franco to call her. She claims he said he knew better than to engage in a relationship with someone who was in recovery for substance abuse, but that he didn't do "anything illegal" and was "a changed man."
It is unclear how Franco will handle the rest of these allegations at this time.