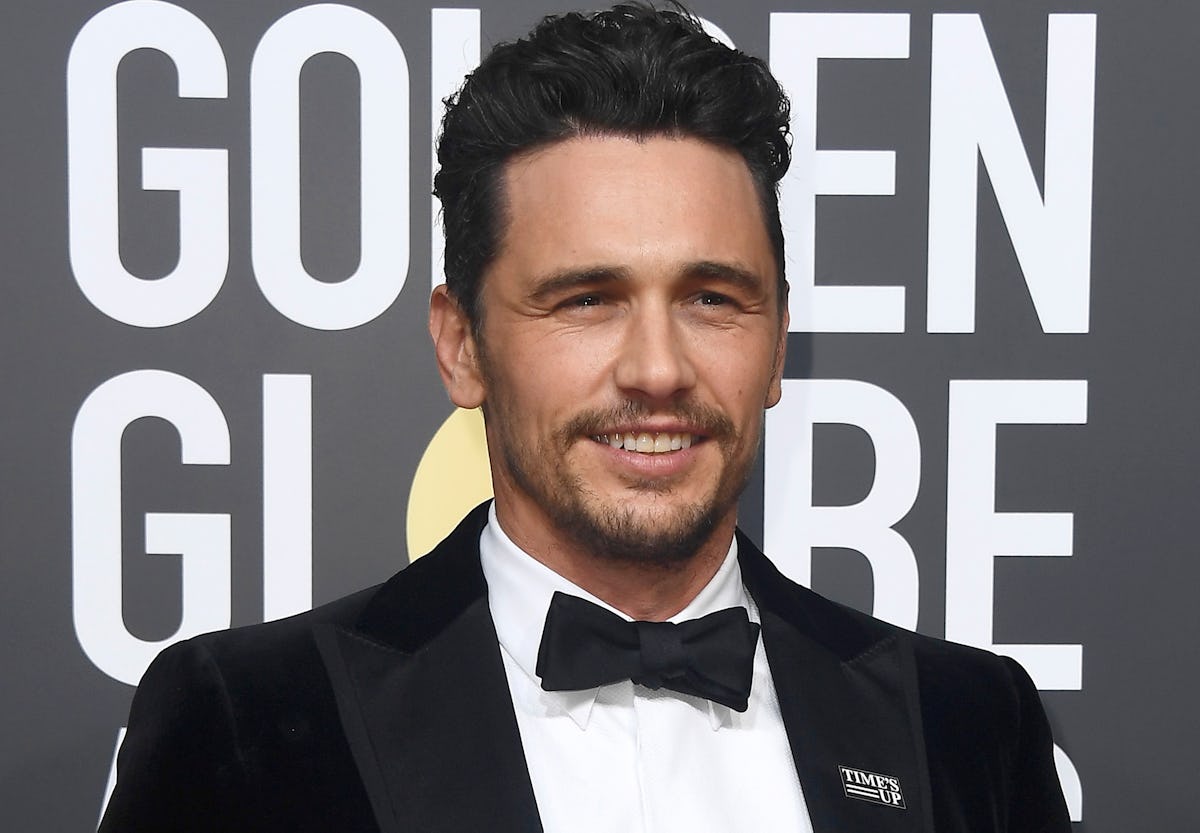 James Franco Responds To Sexual Misconduct Allegations: "I'm Here To Listen & Learn"
James Franco has been accused of sexual harassment by two women. The allegations surfaced on Sunday, Jan. 7, during the Golden Globes and Monday, Jan. 8 in a series of tweets from the women. The actor appeared on The Late Show With Stephen Colbert on Jan. 9 and commented on the allegations, but James Franco's response to sexual misconduct allegations against him are vague when it comes to addressing the actual details of the tweets. Elite Daily reached out to Franco's team for comment, but did not hear back by the time of publication.
One of his accusers, actress Violet Paley, tweeted on Jan. 8,
Cute #TIMESUP pin James Franco. Remember the time you pushed my head down in a car towards your exposed penis & that other time you told my friend to come to your hotel when she was 17? After you had already been caught doing that to a different 17 year old?
Paley was tweeting in response to Franco's appearance at the 2018 Golden Globes where he wore a Time's Up pin. Franco won a Golden Globe for his performance in The Disaster Artist that night. Franco was previously under fire in 2014 for flirting with a 17-year-old girl on Instagram. At the time, he admitted to the flirting and said in an appearance on Live With Kelly and Michael,
I didn't want to come on the show and... feel awkward, so uh, yeah. I mean I guess, you know, I'm embarrassed, and I guess I'm just a model of, you know, how social media is tricky. It's a way people meet each other today. But what I've learned I guess just because I'm new to it is like, you don't know who's on the other end. You meet somebody in person and you get a feel for them but you don't know who you're talking to, and, you know? So I used bad judgment. I learned my lesson.
An actress named Sarah Tither-Kaplan was the other woman to come forward and accuse Franco of misconduct.
She tweeted during the Golden Globes red carpet on Jan. 7,
Hey James Franco, nice #timesup pin at the #GoldenGlobes , remember a few weeks ago when you told me the full nudity you had me do in two of your movies for $100/day wasn't exploitative because I signed a contract to do it? Times up on that!
After he won his Golden Globe, she tweeted again, saying,
Hey James Franco, now that you have a Golden Globe why don't you give speaking roles that don't require nudity in your upcoming films to the dozens of women who have done full nudity + sex scenes in your indie films and art projects?
Franco responded to these allegations on Tuesday, Jan. 9 in an appearance on The Late Show With Stephen Colbert.
When Colbert asked him to comment on the allegations, Franco started off by saying he wore a Time's Up pin because he believes in its message. "I wore it because I do support [Time's Up]," he said. "I was so excited to win, but being in the room that night was incredible. It was powerful and there were incredible voices, and I support it. I support change."
He continued,
In my life, I pride myself on taking responsibility for things that I've done. I have to do that to maintain my well-being. I do it whenever I know that there's something wrong or needs to be changed. I make it a point to do it. The things that I heard were on Twitter are not accurate, but I completely support people coming out and being able to have a voice, because they didn't have a voice for so long. So I don't want to shut them down in any way. I think it's a good thing and I support it.
He added, "I can't live if there's restitution to be made. I will make it. So, if I've done something wrong, I will fix it. I have to. That's how that works. I don't know what else to do."
Colbert then asked Franco what kind of solution he thinks there is in order to reach "reconciliation between people who clearly have different views of things." Franco took a long pause before saying, "I really don't have the answers." He continued,
I think the point of this whole thing is that we listen. There were incredible people talking [at the Golden Globes]. They had a lot to say, and I'm here to listen and learn and change my perspective where it's off, and I'm completely willing and I want to.
Time's Up is a legal fund set up by actresses in Hollywood and activists intended to financially support women and men who are victims of sexual harassment or assault and want to take their abusers to court, as well as provide aid to women who suffer from pay inequality in the workplace. Women attending the Golden Globes dressed in all black to stand in solidarity with the Time's Up initiative, and actors — like Franco — wore Time's Up pins on their suits to show their support as well.