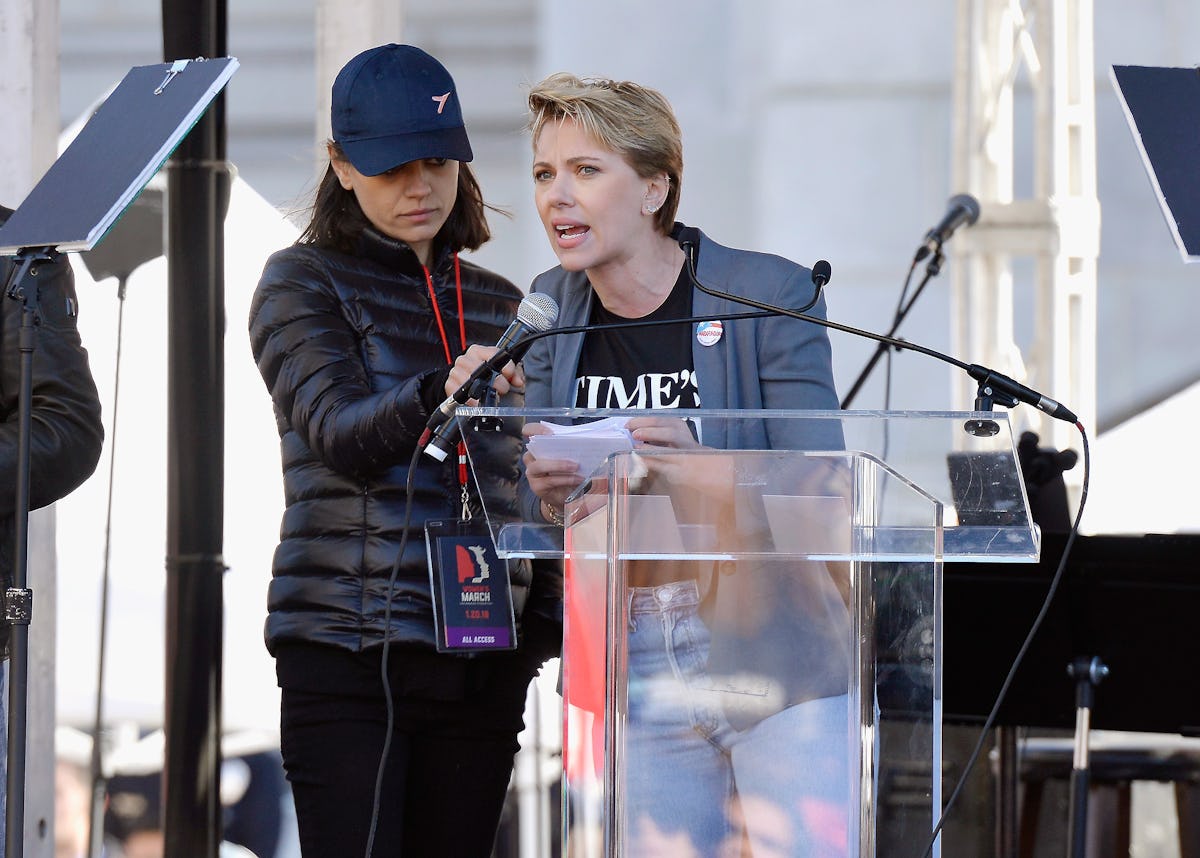 Scarlett Johansson Called Out James Franco At The Women's March & It's So Important
Chelsea Guglielmino/Getty Images Entertainment/Getty Images
Sunday, Jan. 21 is exactly one year since the inaugural Women's March, which came to be because people decided to take a stand against the divisive and hateful language (meant to inform seemingly poor policy) that was used all throughout then-candidate Donald Trump's campaign. To celebrate the anniversary of the historic protests and to continue moving the cause forward, hundreds of thousands of marches took place across the country on Saturday, Jan. 20. At the Los Angeles showing, the crowd heard Scarlett Johansson's Women's March speech calling out James Franco, and her message is so important.
Donning a black "Time's Up" tee-shirt, Johansson took to the stage to share her feelings about how the Time's Up initiative is helping women regain their power and voice in the workplace. She detailed how the organization shines a light on the many different ways in which abuse of power and the oftentimes misunderstood difference between consent and coercion can lead to these instances of sexual misconduct. Johansson then continued on to ask:
How could a person publicly stand by an organization that helps to provide support for victims of sexual assault while privately preying on people who have no power?
She followed up her question with a simple yet strong statement:
I want my pin back, by the way.
Representatives of Johansson confirmed to The Los Angeles Times on Jan. 20 that she was, indeed, referring to James Franco in her speech when she said, "I want my pin back, by the way." Elite Daily reached out to representatives of Franco for comment, but did not hear back by time of publication.
The allegations of sexual misconduct against James Franco were first brought to light on Sunday, Jan. 7, and there are now five accusers. Many of the claims surround the atmosphere on Franco's movie sets that allegedly required nude and lewd scenes. Franco responded to these allegations with a statement on The Late Show with Stephen Colbert on Jan. 9:
In my life, I pride myself on taking responsibility for things that I've done. I have to do that to maintain my well-being. I do it whenever I know that there's something wrong or needs to be changed. I make it a point to do it. The things that I heard were on Twitter are not accurate, but I completely support people coming out and being able to have a voice, because they didn't have a voice for so long. So I don't want to shut them down in any way. I think it's a good thing and I support it... I can't live if there's restitution to be made. I will make it. So, if I've done something wrong, I will fix it. I have to.
With movements like Time's Up and #MeToo, it's important to stress the fact that there needs to be more than "just talk" to make real change. Johansson made sure to take the time to recognize that wearing a pin while allegedly not following the spirit of the movement that's meant to protect women (and all people) from sexual harassment and assault is simply a hollow showing, and not really true support at all.
Johansson used her speech not only as a way to call out hypocrisy in general, but she also used it as a platform to empower women everywhere. According to Glamour, she talked about how she dealt with the power differences in her relationships with males:
Suddenly I was 19 again and I began to remember all the men who had taken advantage of the fact that I was a young woman who didn't yet have the tools to say no or understand the value of my own self-worth. I had many relationships, both personal and professional, where the power dynamic was so off that I had to create a narrative that I was the cool girl who could hang in and hang out, and that sometimes meant compromising what felt right for me.
As she continued to speak about changing the narrative and regaining her power and autonomy, she shared, "I have recently introduced a phrase in my life that I would like to share with you: No more pandering."
Johansson expanded on what that means by saying that you shouldn't put someone's feelings ahead of what doesn't feel right for yourself, and you should respect your instincts so you can trust them. She concluded on a hopeful note, saying:
It gives me hope that we are moving towards a place where our sense of equality can truly come from within ourselves.
Even though Johansson made sure to shine a light on the importance of truly living out the message of Time's Up, she also gave hope to women and people everywhere that you can help yourself overcome the socially engrained power imbalance. Of course, it requires everyone to participate fully in order to reach true equality. But highlighting the best way to get there is a good start.